On Saturday, Oct. 14, California Lutheran University students gathered to present research and creative projects at the Student Research Symposium in the Ahmanson Science Center.
A majority of students presenting had utilized time during the summer to work full-time on their projects with the assistance of faculty mentors and support from fellowships and grants.
Projects from over 30 student researchers included multiple disciplines. Biology, Biochemistry, Chemistry, Communication, Computer Science, Exercise Science, Music, Political Science and Psychology were all represented.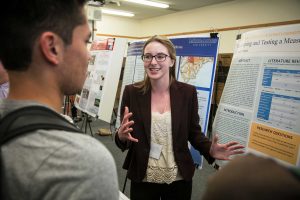 Senior Nathaniel Burola enjoyed the collaborative nature of his project, working with two universities thousands of miles away presented a unique opportunity.
"Well this project is kind of unique because it was done in Ireland over the summer. So I talked to the CLU study abroad office and they had a pilot program with Arcadia University in Pennsylvania, I believe, so it was kind of a joint venture. So University College Dublin in Ireland, Arcadia University, and and then Cal Lutheran as well," Burola said.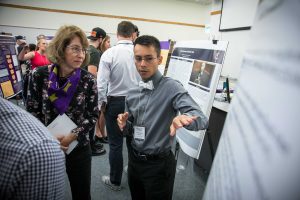 Burola chose to look at mayfly communities and how their presence or absence in river systems affects the ecosystem.
"My project was studying how manmade barriers in rivers have an effect on mayfly communities. Mayflies are small insects that mass spawn in rivers. Mayflies are important because, according to the Irish EPA, they are effective indicators of river health" Burola said.
After extensive research over the summer, Burola was able to confirm the importance of mayflies, but further research is necessary.
"We can definitely say from the data that artificial barriers that are created upstream have an effect on mayfly communities; however, specifically, we don't know – that warrants further study," Burola said.
Students, families and alumni first gathered in Richter Hall for the research presentations, which began with a welcome from College of Arts and Sciences Dean Jessica Lavariega Monforti. Next, student researchers were available for a question and answer interactive poster session where student researchers were able to give students, families and alumni more information about their projects.
Junior Giselle Gallardo worked on bone tumor detection research over the summer. Combining mathematical methods with biological information proved to be interesting for Gallardo.
"This summer my main job was to try to figure out a way to self-optimize an artificially intelligent system to diagnose bone tumors. Basically find a methodology for doing that," Gallardo said.
Gallardo's project developed as it moved along, taking a math-centered turn.
"It, at first, started as a means of data collection, and then it kind of morphed into, well, can we actually take this basic mathematical algorithm and just make it teach itself by looking at data," Gallardo said.
These student research projects were made possible in part by fellowships and grants from the Swenson Science Research Fellowships, Jung Summer Research Fellowship for Biological Science, Overton Summer Research Fellowship and the University Summer Undergraduate Research Fellowship.
Priscilla Romofsky
Reporter