From Comeback Kid To Team Leader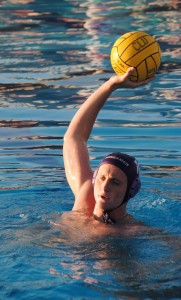 California Lutheran University Kingsmen water polo player Justin English tore his right shoulder in 2015 and had surgery in November 2015 to fix the tear.  Now, he is back starting for the Kingsmen after a year and a half of recovery.
"The surgeon who did my surgery told me after the surgery that the injury was much worse than he thought it was initially, and it was one of the worst tears he's ever seen," English said.
After the surgery, English had to be in a sling with little movement for a few months which caused him more issues than not being able to play. 
"After the surgery I went through a lot of changes in my life and developed problems with anxiety and depression because I felt lost that I couldn't do the sport that I had been playing for over 10 years," English said.
English made the choice to come back to school in the fall of 2016 and to play water polo again. 
"Once I made the decision to start working hard to come back and play water polo and come back to school in the fall of 2016. I worked my butt off for a whole year working out every day and sometimes twice a day," English said.
He came back in the fall of 2016 to Cal Lutheran and changed his academic career.
"The surgery changed my whole life because when I came back to school I changed my major to psychology with a sports psychology emphasis to help people get through all the things I went through.  Now I feel like I've found purpose in my life, and it all came from something I initially thought was going to be horrible now it has turned out for the best," English said.
"I watched him in his year-and-a-half long recovery process and I've never seen somebody that took it upon himself more to get back into shape and rehabilitate himself than Justin," said Kingsmen Head Coach Craig Rond.  "It was just an incredible thing to watch somebody with such maturity and so much discipline and commitment to getting back, it was really cool."
English is now back playing with the team as a starting center defender. 
"He's back and he's essentially 100 percent again and pushing through it," said English's teammate and goalkeeper Jake Venckus.
"He is definitely a leader," said teammate Zach Zamecki. "He gets to be a leader next year and probably a captain next year.  I think he'll help the team succeed and be a big part of the team."
Since coming back, English has seen in his first game back how all the hard work that he has put in has shown in this year's season.  "I just have a lot of appreciation for my coaches and my teammates to help me through all of this and just for supporting me and supporting the whole team for us to have such a good season so far," English said.
English believes that with the help of his coaches and teammates, the time and effort he put in was key to his success and remaining healthy in the 2017 season. 
Jack Hoy
Reporter