Residence hall staff hosts fashion show for breast cancer
The California Lutheran University Think Pink Men's Fashion Show was hosted by the resident assistant staff of Trinity Hall in honor of Breast Cancer Awareness Month.
Senior Coordinator for Residence Life and Student Conduct, Andy Hanson, Trinity Senior RA Daniel Chavez and RA Dylan Mukhar along with ten models strut down the runway in pink shirts.
Some of the models matched the pink shirts with pink shorts, socks, shoes and even a pink Bratz backpack.
"Taylor Kettle [Trinity RA] pretty much took the lead on the planning and she did a great job," Mukhar said.
Less than half of the available seats in Ullman 100 were filled, RA Mariana Fonseca said. However, the staff felt they received a good turnout.
"We hoped to have more than 75 people here. It is hard to get residents to come out to events. We are pretty proud of the turn out that did come tonight," Chavez said.
Fonseca said the goal was to be at capacity with $2 per ticket, so the financial goal was $200.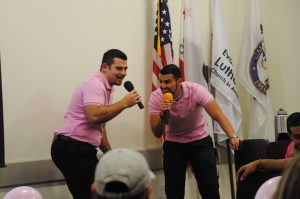 Chavez said he was involved in this fundraiser his freshman year when there was more people. However, Chavez said he "felt like this one was a lot more rewarding because we helped out and we actually did research."
Chavez said the end total was about $74 donated to the Susan G. Komen Foundation.
The decision to donate to the Komen Foundation was left up to Kettle, Mukhar said.
According to the Susan G. Komen Foundation website, the organization has financed more research for breast cancer than any other nonprofit.
According to its website, "Since 1982, we've funded more than $920 million in research, more than $2.0 billion in medical care, community and provider education, and psychosocial support, serving millions in over 60 countries worldwide."
Fonseca said this cause is important because a lot of people are directly or indirectly affected by breast cancer.
Chavez said that the Trinity staff was motivated to put on the fundraiser  because some staff members have experience with family fighting breast cancer.
"I hope that [the event] just makes [students] more aware of organizations similar to this and for them to be inspired to help out, because even if it's a small effort it means a lot to someone," Fonseca said.
The organization focuses most of its funds toward "uninsured, under-insured and low-income women and men" who otherwise may not be able to get treatment, according to the website.
Many of the male models danced down the runway to music. One model even walked on his hands, and another did a Michael Jackson impersonation to the song "P.Y.T."
"I hope that [the event] has a positive impact and it just helps bring people together," Mukhar said.
Both Chavez and Mukhar said having men represent a struggle most commonly experienced by women shows that men want to support women and make a change.
"We wanted to let people know that we're here for them and we're here to help them out if they are going through a situation where a relative does have breast cancer," Chavez said.
Rissa Gross
Reporter