On Tuesday, Oct. 25, California Lutheran University's Community Service Center hosted a fair trade bake sale on the Spine with cookies, brownies and many more Fair Trade Certified items.
The goal of the sale was to provide information about what it means to be fair trade to the Cal Lutheran community.
According to the World Fair Trade Organization website, "Fair Trade is a trading partnership, based on dialogue, transparency and respect, that seeks greater equity in international trade. It contributes to sustainable development by offering better trading conditions to, and securing the rights of marginalized producers and workers – especially in the South."
Cal Lutheran is a Fair Trade Certified university.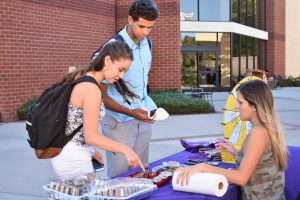 Fair trade is focused on providing fair pay and better working conditions for farmers and producers. It also works to support communities and better the environment.
Head of the bake sale and Community Service Center member Tessa Touchstone had not organized an event like this before, but was encouraged by the level of participation at the event.
"It's been pretty good. Almost everyone that has walked by has stopped, so that's good," Touchstone said.
Touchstone set a goal going into the bake sale, and the amount of interest from students and faculty kept the Community Service Center hopeful of exceeding it.
"I think our goal right now is $50, especially because everything is only a dollar," Touchstone said.
All proceeds from the bake sale are going to Raising HOPE, a local organization based in Thousand Oaks.
RaisingHOPE is focused on providing advocacy, awareness, funding and support for children and families in the child welfare system. It specifically helps court-dependent children and transitional-age youth residing in the Ventura County and Conejo Valley areas, many of whom are or were in the foster care system, through community events, mentoring, and legal services.
For more information on how to help the Community Service Center, find them in the Student Life office or at (805) 493-3981 and RaisingHOPE, Inc. at www.raisinghope.org or (805) 491-5439.
Priscilla Romofsky
Reporter