The audience rose for a standing ovation with nearly five minutes of applause. Hushed words of praise from audience members could be heard as they exited California Lutheran University's Samuelson Chapel.
The faculty recital on Friday, Nov. 3 featured Yoshika Masuda, assistant professor of music and director of string studies at Cal Lutheran. Masuda is the conductor of the string orchestra, he teaches private cello lessons and music courses and is an award-winning cellist.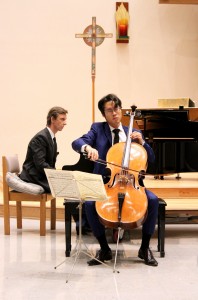 Masuda closed his eyes periodically while playing, practically hugging his cello with  his head down and his ear close to the instrument like he was lost in the sound. His breathing could be heard over the instruments.
"He just kind of captures the room. It's just really powerful to see someone play with that much emotion and it's really inspiring too," sophomore Rachel Counihan said. "[His cello] becomes like an extension of his body."
Counihan has played viola in the string orchestra for two years. She is also in Masuda's Music and Culture class and Chamber Music class.
For the recital, Masuda performed two compositions, Frédéric Chopin's "Sonata in G Minor Op. 65" and Sergei Rachmaninoff's "Sonata in G Minor Op. 19." He was accompanied by pianist Wojciech Kocyan.
Masuda said that he enjoys performing but his true passion is for teaching.
"It's just a satisfying thing really, when you sort of pass on what you learned to the next generation," Masuda said.
Masuda said that he hated the hierarchy between teachers and students and the condescension he received from a lot of teachers.
"He genuinely cares about each and every single one of his students. There's a mutual respect and appreciation between the ensemble and him," Counihan said.
Mark Spraggins, a professor and chair of the music department, said that Masuda has a lot of experience performing but not as much teaching, "so that's something he is developing right now."
"I think that because he performs music at a high level, as a conductor he's very sensitive to some of the more subtle musical aspects," Spraggins said.
Spraggins said that Masuda's positive demeanor and patience are important qualities in a director, because "music is difficult and it takes time."
"He just has a really good understanding of our group and of our abilities and he knows how to get us to listen to each other, which is so important in a small string group like us," Counihan said.
Spraggins said that Masuda was Interim Orchestra Director and Professor of Cello last year until he was offered the full-time job after a nation-wide search last spring.
"I think our committee, our department felt very strongly that having the best performing musician would be the best for our department," Spraggins said.
Counihan said the three other final candidates for the job, besides Masuda, test taught a class and conducted the orchestra. She said that they did not have Masuda's conducting presence, and confused the class on topics they had already learned.
"I think of him as the epitome of 'when words fail, music speaks' because when he's trying to explain how he wants something phrased or how he wants us to play, he will grab his cello and he'll just play it," Counihan said.
Masuda was born in Japan and has lived in Hong Kong, Australia, the UK, and now lives in the U.S.
"I was studying with Ralph Kirshbaum in Manchester and he basically got this endowed position at USC and asked if I wanted to follow him here," Masuda said.
Masuda followed Kirshbaum to the University of Southern California (USC) for his doctorate because he said he still had more to learn from him. Masuda is also a founding member of SAKURA, "a unique and versatile cello quintet, hailed as 'brilliant' and 'superb' by the Los Angeles Times," according to the group's website.
"We all studied with Ralph Kirshbaum at USC. Sakura, in Japanese, means 'cherry blossom' and Kirshbaum, in German, is 'cherry tree.' Also, if you look at a flower of a sakura it has five petals," Masuda said.
Masuda said he feels that he is part of a cello family with his mentors and fellow students.
"I feel like his love for classical music and for playing the cello, hopefully, is rubbing off on me because that is the level I'd like to be at one day," Counihan said.
Rissa Gross
Reporter