California Lutheran University's Center for Equality and Justice hosts events highlighting different issues in the world today. A recent discussion of healthcare marks the fifth and final teach-in the CEJ has held this calendar year.
Paul Y. Song, a physician and progressive activist, spoke on campus about the healthcare industry in the United States on Nov. 8.
Song began his lecture by stating his credentials and shared his background in the medical field, citing this as the reason he is passionate about the changes that must be made in the industry.
Song's lecture compared U.S. healthcare to other developed countries around the world. Song also talked about how the healthcare industry has changed under the Trump administration so far.
Song said that the healthcare system in the U.S. is currently in a hole, and the longer we wait to get out of it, the deeper it will get.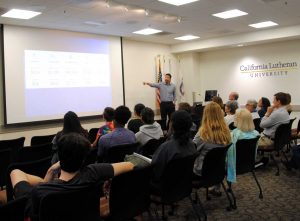 "At some point, everyone is going to have to experience the institution of healthcare. In some way, we all interact with hospitals and clinics, and even though this issue might have a lot of detail to it, in some way we are all going to be impacted by health insurance and the healthcare system," said Cynthia Duarte, director of Cal Lutheran's Center for Equality and Justice.
However, for college students, healthcare usually isn't a huge concern because the students are younger and healthier, Duarte said.
Typically, people who don't have problems with healthcare don't believe there is a problem, Song said.
Song said that while working as an oncologist, he saw every day just how cruel and constricting the healthcare system is, especially when people need it the most.
Mayra Favela, a junior at Cal Lutheran and intern for the CEJ, said she attended the event as part of her job, but also because her family had recently gone through an uncomfortable experience with the healthcare industry.
"You just see how very unfair the system is in terms of having your basic healthcare and having just the treatment you need without the insurance companies and hospitals taking so much advantage of you," Favela said.
Really, the problem in the U.S. is that insurance companies are able to set their own prices and thus they compete constantly and want to give the people less benefits for more money, Song said.
"The insurance companies constantly get in the way of me and my patients every day. They tell me what medication I can prescribe, what procedures I can do, what hospitals they can go to, and over the last five years there have been over 45 million denials," Song said.
Another problem in the U.S. is that businesses have to give healthcare to employees because it is not simply provided by the government, Song said. For example, before the controversial bailout of General Motors by the U.S. government, GM was spending more money on healthcare for their employees than they spent on steel for their cars.
For anyone interested in learning more about Song's understanding of the healthcare industry, his presentation is available online.
The next event hosted by the CEJ will be Dec. 1 for World AIDS Day in Swenson 101.
Anne Mukai
Reporter