Started From the Bottom: Student Businesses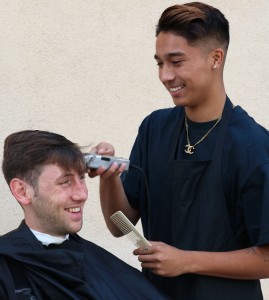 Students at California Lutheran University are doing what they love and succeeding because of it. Junior Roemello Ugale, senior Dani Kluss and senior Victoria Lahney are letting their talents work for them in their personal businesses.
Ugale is a full-time student and works more than one job to pay bills. To further generate income, he turned his passion for cutting hair into a business. Ugale said he thinks student businesses, including his own, are deserving of recognition.
"When you go to a new barber, you know nothing about this person, you don't know if he's good or bad, you just don't know him, and it's kind of hard to trust someone you don't know," Ugale said. "I think student businesses are cool because I've had a lot of people just come up to me and ask if I cut hair, and I'm like yeah, and they already have an idea of who I am, I think it's easier to trust something that's more familiar."
Ugale used to cut hair for a few people when he first started, but now he has regular customers and a growing clientele. For Ugale, cutting hair is a personal act because it allows him to produce a tangible product of his imagination.
"You're kind of making someone's image at the same time. Whenever I put my clippers on someone's head, I'm doing it my way, my style, it's how I interact with people, it's my own style," Ugale said.
Kluss, like Ugale, has transformed her passion into a business as well. She created a personal blog that later blossomed into a successful and resourceful platform for college students.
"It started out more as just sharing what was going on in my life, and it turned into this huge thing, which was really unexpected, and it became a great way to help people and to talk about my college experience and everything," Kluss said.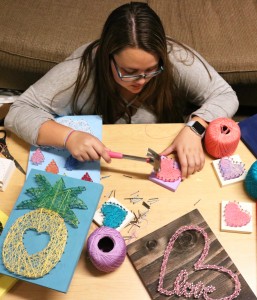 Since the inception of her blog, Kluss said she has received many responses from her audience, including messages of gratitude for her advice and heartfelt letters about how she has changed lives.
"I wanted to kind of document this experience and the things that I'm learning and express myself creatively, and along the way it turned into this thing where I'm helping people, and I love helping people," Kluss said.
The climb to success with her blog did not come without a struggle to find balance, though. Kluss said she had to take steps back to realize that she could not accomplish everything all at once. Despite this, she found that her blog has been worth all the time and effort.
Lahney also had to find a balance between school and her business, she said. Lahney and her sister took something they enjoyed, nail string art, and converted it into a business that could be shared with others.
"We did it just because we love crafting together and we wanted to find something else to do. It was over the summer and my sister was just having fun, she just graduated high school and she had a lot of time her hands, and so we made it happen when we started our little business of 'Sister String Art,' and that's where it kind of started taking off," Lahney said.
She said she decided it was time to move the activity from a hobby to a business when she realized that people were interested in it. The money they were making went from paying for supplies to turning a profit.
Lahney said when she fulfills requests, she breaks the project down to the exact size, color and design the customer wants all while "making sure they got exactly what they were looking for at the price they [are] comfortable with."
These student businesses have been beneficial in terms of accountability, making money and more. Ugale, Kluss and Lahney believe there is potential for anyone to let their own work shine and become something bigger.
"I kept with it, and I think hard work and dedication just pays off, and even if you don't see it paying off really fast, it can turn into something in the blink of an eye," Ugale said.
Lara Santos
Reporter