Junior Brianna Bryan strives to live a creative life in her schooling, extracurriculars and goals for her future. Growing up in a family filled with musicians and entrepreneurs, Brianna has been exposed to the world of creativity since the day she was born.
"My parents are both entrepreneurs, but I didn't grow up thinking I was going to be in business at all. I started off as a singer. I sing first more than anything. My dad's a singer and I have a very musical background in my family," Bryan said.
This familial musical influence propelled her to dive deep into the world of singing. She wanted to expand her experience in performing arts and got involved with her high school's Drama department, auditioned for musicals and grew to love the theatre world.
"After joining the Drama Club in high school, I started to get really into musicals and worked on my voice and acting skills. I got to put acting and singing together," Bryan said.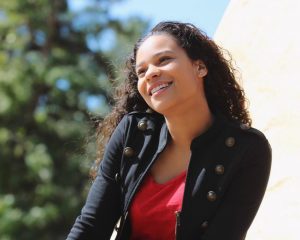 After graduating high school, Bryan yearned to keep performing arts in her life while in college. However, something new sparked interest in Bryan's life early on in her first-year here at California Lutheran University. With encouragement from her entrepreneur parents and in searching for a stable major, Bryan came to Cal Lutheran with business on her mind.
Following her inspirational classes, Bryan became involved in the business major at Cal Lutheran. One professor who has stuck with Bryan throughout the years, Executive Director of the Center for Entrepreneurship Michael Panesis, spoke highly of Bryan and her passion for business.
"One of my early observations about Brianna was that she was very mature for her age. Her freshman year, she got up and did a sales pitch against all juniors and seniors. I doubt the audience knew the difference between her and the upper-classmen," Panesis said.
Aside from her mature nature and willingness to jump into a situation, Panesis also spoke highly of Bryan as an individual.
"It's rare that you find someone who is so well-rounded. Brianna doesn't give up easily, she has many ideas to do with the arts and when she's meeting with entrepreneurs who aren't as receptive to her ideas, she takes the negative feedback, learns from it and keeps going," Panesis said.
As Bryan's passion for business grew during her first year at Cal Lutheran, she joined the Entrepreneurship Club and worked up to positions of leadership. One fellow club member, Evan Brandt, also spoke highly of Brianna both as a person and an entrepreneur.
"I'm impressed with her drive. It doesn't matter what she's doing. Whenever she wants to do something she just goes and does it. She doesn't ask for permission or hesitate. She just does it," Brandt said.
Her involvement with the Entrepreneurship Club sparked a life goal: to start her own business by senior year of college. With encouragement from professors and club members, this past summer, Bryan accomplished this goal. Combining her love for performing arts and her desire to start a business, Bryan started to work on the Red Rose Project.
"The Red Rose Project is a building platform dedicated to showcasing the work of creators of all art forms in an effort to encourage today's true artists to succeed at pursuing their passions," Bryan said.
Bryan shared that the Red Rose Project was born as a space for artists to collaborate and form a community that she referred to as "a hybrid of a LinkedIn and a YouTube account."
The Red Rose Project will include podcasts, videos, radio shows, apparel and much more.
Brandt is also excited for the Red Rose Project, as he is helping Bryan with ideas for the project and motivation.
"She's using her entrepreneurship to pursue her other passions in arts. I think she's onto something with this project, so I'd love to see her develop it a little further," Brandt said.
Bryan hopes the Red Rose Project will grow and expand over the years as she plans for her official launch this coming spring.
Bryan has an extensive list of hopes and dreams she is determined to accomplish in the future. Among those are becoming a professional voice actress, owning her own debut album and most importantly, staying happy.
Whatever path Bryan chooses to go down, she will have her Cal Lutheran family supporting her. Both Brandt and Panesis believe Bryan can and will accomplish all that she puts her mind to.
"I think she could be the next Beyoncé. She can act, sing and has great business skills. She's the type of person who could be her own brand and be a force to be reckoned with," Panesis said.
Catherine Slabaugh
Reporter