This past year was one of growth, perseverance and continuous learning for senior Sarah Girgis. Many students at California Lutheran University know Girgis by her authentic demeanor and infectious positivity, but many also know her as a fighter.
Two years ago, Girgis was living a busy life, going one hundred miles per minute. She was captain of the Cross Country Track and Field team, taking 20 units in school and working at a production company. For eight weeks, she was in and out of health services complaining about a headache, knowing something was wrong.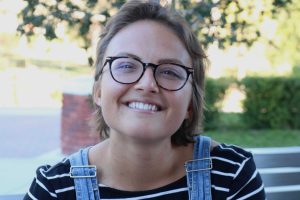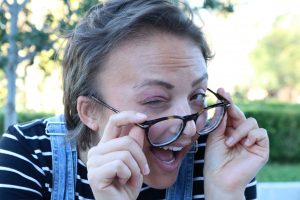 "When I got diagnosed, it was super sudden and scary. I had stage four pseudomyogenic hemangioendothelioma, a rare form of soft-tissue and osteosarcoma cancer on June 3, 2016. There's only 80 cases on the planet. For two months, we thought I was going to die but I was determined to kick cancer's ass," Girgis said.
Girgis began treatment on June 14, 2016 at M.D. Anderson Cancer Center in Houston, Texas for a year and a half. During this time, she lived in the hospital every other week.
Associate Professor of Criminology and Criminal Justice at Cal Lutheran Molly George has been an educator and mentor for Girgis since her freshman year, when she first took Introduction to Sociology.
"Sarah made an immediate impression on me with her energy, charisma and kindness. Her enthusiasm for the course material and her joy of learning is infectious," George said.  
Girgis took an independent study with her where her work centered around the sociological study of medicine, emphasizing patient and doctor relations and the symbolism of patient identity.  
"I was absolutely thrilled to work with Sarah so she could continue her studies. I am impressed with her ability to undergo such grueling treatment while simultaneously keeping up with the readings, asking insightful questions about the process and analyzing her journey as a patient intellectually. I was impressed with her findings for the course, but truly in awe of Sarah's strength, courage and positive attitude throughout treatment," George said.   
Girgis expressed her gratitude for her strong support system. Her mother has always been her number one advocate. Close friends, family members and academic mentors carried her through the highs and lows of treatment.
Talia Van Wingerden, a recent graduate of Cal Lutheran and a close friend of Girgis, came up with the idea to create a fundraising event for Sarah in the fall of 2016.
"AMA [American Marketing Association] needed a fundraising event, and what better way to do it than for one of your best friends going through a tough time? I knew the Cal Lutheran community would do anything to support Sar and her family, so why not do it with sunflowers, a perfect representation of her," Van Wingerden said.
Although Girgis feels that she missed out on certain experiences in college, she still had positive takeaways.
"Although very unorthodox, it's still been one of my favorite years of my life. It's reminded me who cares for me and what love and true companionship really looks like. It's crazy that we think we're immune to tragedy. People forget that tragedy is normal, so why do we treat it like it's not?" Girgis asked.
Girgis' mentality in life is that a negative attitude is not only contagious, but also takes up too much energy, so people should make an effort to be happy.
"I'm a firm believer that you are allowed to feel bad for yourself, but you can't stay there. You're allowed to acknowledge your situation and acknowledge that this is difficult and acknowledge that this is going to be the hardest thing you'll have to do, but then you have to move on," Girgis said.
Girgis' positive attitude translates over into her passions and interests. When she is not in class or working, you can find her outside running, camping, hiking or at the beach. As a San Diego native, she enjoys casually surfing. Girgis recently became an outdoor rec intern at Cal Lutheran where she interns 10 hours a week.
She is excited for the future and to graduate in the spring. She currently has an internship at Hewlett-Packard, a computer and printer company. HP has a full-time job awaiting her in the Worldwide Marketing Communications Department where she will be doing social media strategy. Girgis aspires to get her Masters in Public Policy and help write propositions so that allocated money is spent better. 
"Kindness is a real and palpable thing. Cal Lutheran is the only reason I'm able to graduate. It's so important to lean into your community because they will hold you up," Girgis said.
Kendra Salo
Reporter
 *Updated 2/6/18 at 3:23 p.m.