Volunteer Opportunity: Teach Tech to University Village Seniors
February 10, 2018|16 Views
Residents of the University Village Retirement Community arrived at the first Senior Tech Class with notepads and pencils in hand last Tuesday, Feb. 6. The California Lutheran Community Service Center has teamed up with staff at University Village to offer technology classes for senior residents. This is also a volunteer opportunity for Cal Lutheran students looking to take part in a service program.
This class was the first of four scheduled Senior Tech classes. During the hour-long session, residents were paired up at tables with student volunteers to have their questions answered on how to use their smartphones, tablets and laptops.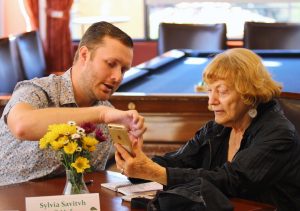 Senior resident Sylvia Savitvh was paired up with student volunteer Tyler Berry, a sophomore at Cal Lutheran. He said he helped her learn how to send emails and text messages and download applications from the App Store on her iPhone. By the end of the class, she had filled a few pages of her notebook with the things she had learned from Berry.
"I learned how to get an app into my iPhone and I learned how to do a mail, messages, email and the apps," Savitvh said, referring to her notes. "And he was a very good teacher. I feel very proud that I learned something from someone who can teach very well."
Mihoko Vukmirovich, an 82-year-old resident, also had her technological questions answered. Her partner was Cal Lutheran student Micah Franklin, who taught her how to use the alarm, reminders and calendar applications on her iPhone.
Vukmirovich said she liked learning how to take panoramic pictures but her favorite part of the class was that she was able to "talk with the young man," Franklin.
Franklin, who has experience working with senior citizens, said he enjoyed meeting Vukmirovich and helping her with her questions.
"I worked at a senior center back in my own hometown, so this was kind of like just going back to work where I was working at. It seemed like a fun activity…I'm also a techy," Franklin said.
Community Service Center Coordinator Madeline Liberti planned the event with University Village staff and participated in the first class. She said students who volunteer for upcoming classes can expect more than just to teach seniors about technology. She said they can expect to meet individuals who are eager to learn and to form connections with student volunteers.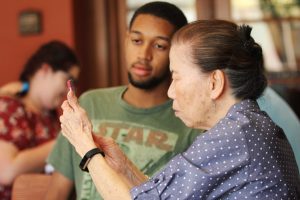 "It seemed like everyone was very interested in connecting not just on that surface level of learning the technology but also just being able to learn about someone new and talk and connect just as a person, which I think is the goal of any of our service programs so this one I think in particular is going to be a really special one," Liberti said.
She added that the initial reaction from the residents was very positive, with many residents showing interest right away.
Liberti said she hopes that more students will volunteer for the next classes and that they can continue to grow the event.
"I'm really excited for how the first one went. Hopefully we'll get to keep growing it. It's going to be a really rewarding experience for anyone else who hopefully joins on," Liberti said.
The next classes will be held on Feb. 20, March 6 and March 20 at 1 p.m. in the Balboa Room of the University Village Retirement Community.
To volunteer for upcoming Senior Tech Classes, register on this online form or contact Laura Willits at [email protected] or (805) 493-3981.
Brooke Stanley
Reporter
*Updated 2/12/18 at 9:50a.m. In an earlier version of this article Mihoko Vukmirovich's last name was misspelled.