The Forrest Fitness Center at California Lutheran University recently posted a hand-written sign at the front desk stating "no midriffs" were allowed. Within a week, the sign was removed and replaced with a new dress code policy providing more explanation of what is allowed to be worn in the gym.
"My biggest problem with the sign was that it was addressed to just girls. There are plenty of guys in the gym who wear tiny tanks tops showing their entire side as well as part of their midriff and I'm not allowed to show my midriff," said Cal Lutheran student and frequent gym user Delaney Buck.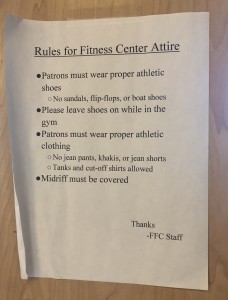 Fitness Center staff member Darby Neveu said the hand-written dress code sign made students  who entered the gym question what the actual dress code policy is and why it was directed more toward the female gender.
"I got weird looks when I was working at the desk from people who were reading it as they entered the gym. I could tell they were confused and a little taken back when they read the sign, especially the girls," said Fitness Center staff member Darby Neveu.
"We've always had a dress code; it's been part of the rules we have. It's actually in the student handbook. For us, it's an issue because we have other people in the community who come and workout, and when they start telling us this isn't cool, we have to make sure we reemphasize it again, and that's really why we had to make it known again," said Forrest Fitness coordinator and trainer Joel Canacoo.
The Fitness Center staff put up the new sign that states the dress code, which includes wearing proper athletic shoes, proper athletic clothing (no jean pants or jean shorts) and covering midriffs.
The Cal Lutheran student handbook provides no mention of student dress codes in the gym or elsewhere, meaning around campus, a midriff can still be shown while wearing clothing such as crop tops. The only stipulation in the handbook is regarding public nudity.
"I know part of our policy was that girls can't just wear sports bras,  and that was part of the problem. Girls were just wearing sports bras, and I think this was the staff's way of saying you can't just have on a sports bra when you work out in the gym," Neveu said.
Canacoo said students also questioned the gray line between the dress code for men and women, such as the difference between the the cut-off shirt that girls wear as opposed to the cut-off shirts guys wear.
"There's no issue with cut-off shirts. The issue is when people start cutting their shirts so deep on the side and that's when it's a little too much. For us, we want people to be comfortable working out but if it's at the expense of other people not being comfortable, then we have to make sure we find an even ground," Canacoo said.
Canacoo said no specific incident caused the reinforcement of the dress code. He said the staff felt it was time to remind students and the community to dress with consideration of the other gym users.
The Forrest Fitness Center's usage policies and dress code can also be found on its website.
Marissa McCardell
Reporter