Latin American Student Organization Thanks Housekeeping, Other Staff
February 23, 2018|16 Views
Each year, the Latin American Student Organization (LASO) hosts an appreciation dinner for the housekeeping, Facilities and Sodexo staff of California Lutheran University.
Co-Presidents Carina Perez and Carolina Zuniga-Mejia of LASO are now seniors and have been involved in the organization since they were freshmen.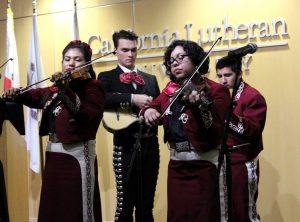 Zuniga-Mejia said that in the early days of the club, LASO students were instrumental in getting Sodexo employees formally recognized as Cal Lutheran staff. Now, the appreciation dinner is a major event hosted by LASO.
"A lot of the workers come from a Latino background and I think, in the beginning, LASO wanted to make them feel included in the Cal Lutheran community…that's when they started the dinner and it just kept going," said Zuniga-Mejia.
Staff are encouraged to bring their families to enjoy the celebration, which featured the mariachi band Mariacha de la Tierra from Hueneme High School.
"Students don't even think about those who clean their toilets, those who cook their food and make the campus beautiful, so I think this is a great way to give back to them," Perez said.
Lead Custodian Lucia Sanchez danced to the music with coworkers. She has worked at Cal Lutheran for more than 25 years and has attended appreciation dinners hosted by LASO in the past.
"I love the students so much," Sanchez said. "It's why I stay working here."
Her sentiment was echoed by everyone seated at the table, where she sat with other staff enjoying their time at the event.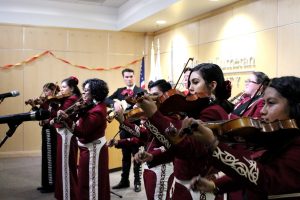 "This is the first time I've been to the dinner," said Rosaura Montelongo, who has been working for Cal Lutheran's housekeeping staff for two years. "I really love this job and appreciate all the students do for us."
The dinner offers students and staff an opportunity to connect on a personal level, sharing a meal and entertainment. After the meal from El Pollo Loco and dessert, staff received gifts and thank you cards handwritten by students from LASO.
"We wanted to let them know we're here, too. We're students, we do appreciate them, and it's good to share our culture together," said Zuniga-Mejia.
Katherine Lippert
Reporter