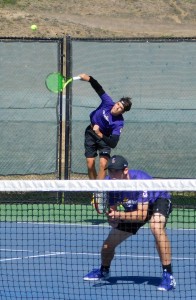 The California Lutheran men's tennis team battled through injury and tough competition, but got swept 9-0 in their matches against Bates College. The Kingsmen went 0-3 in doubles matches and fell to 0-6 in the singles competition. The day started with the doubles matches, where the Kingsmen looked to take away some wins in their matches.
In the doubles matches, both the number two and number three doubles team for the Kingsmen fell to Bates 8-2. The Kingsmen's number one doubles team consisted of senior Lucas Tilly and junior Yahn Gawrit. They went the distance with the Bobcats, but fell short towards the end, finishing the match 8-6.
"I think the doubles day has been pretty good in my eyes," said senior Joshua Legardy, who also competed in doubles. "We learned a lot through our matches, just in terms of how to play as a better doubles team."
The singles matches brought more competition and fire to the Kingsmen side, but overall, with injuries and lack of conditioning, Bates were able to outlast and prevail.
Gawrit, who was Cal Lutheran number one in singles, and junior Michael Sulahian, who was number four, both put up a valiant effort, but fell short in both sets in their matches.
Only one match was battled to three sets. Tilly won his first set of the match 6-4. He then lost set two, determining the win through the last set. Although Tilly had the longest match for the Kingsmen singles team, he lost the third set 13-11.
Bates is ranked in Division III men's tennis and were the Kingsmen's most competitive opponent yet in the early season.
The Kingsmen felt confident in their skills and determined to battle it out.
"Bates, without a question, is a good team, but I believe we have the potential to give them a closer battle in the near future, but we gotta work hard for it, and that's what's on our mind right now," said sophomore Sebastian Ariza, who played in both a doubles and singles match against the Bobcats.
Frank Molina
Reporter