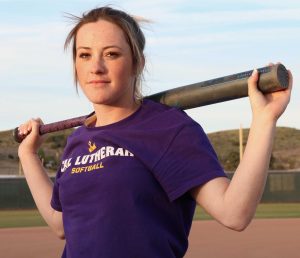 One of the many senior leaders of the California Lutheran University Regals softball team this year is the energetic and dedicated second baseman, Mikaela Mayhew, who has used her many years of experience and determination to help lead and contribute to what she hopes to be another winning season.
"I started when I was six," Mayhew said.  "I kind of started out with a lot of other sports—gymnastics, soccer and softball.As I got older I fell in love with softball so that's what I stuck with." 
The Orange County native has since gone on to play four seasons for the Regals, along with her friend and senior third baseman, Olivia Leyva.
"Mikaela has always been this ball of energy, no matter if we are in practice or in games and she's always there for everyone—whatever they need," Leyva said.  "She's all around an amazing person and she's become one of my best friends over the last four years."
Being one of six returning seniors, Mayhew has stepped up to the plate and become one of the team's main leaders.
"She's kind of like the mediator between us as a team and with our coach.  She's always the one we ask for help whenever we need clarification on anything—she's a born leader, she knows how to talk to us as her peers and as her teammates, and she knows how to communicate that to the coach and vice versa," Leyva said. 
As for her four years playing for the Regals, Mayhew said that it has been difficult, but it has been rewarding.
"It hasn't always come easy to me.  My freshman year I didn't play at all and my sophomore year I was kind of splitting time and then junior and senior year I've been a starter at second base," Mayhew said.
When Mayhew first came to Cal Lutheran she wasn't immediately placed as a starter, she sid that the experience overall has made her a stronger person and has taught her a lot about life.
"I think that coming here and not starting all four years has given me a good sense of having to work hard and not having things handed to you, because I wouldn't say I ever had anything handed to me. I had to work for where I am today, so I think that it's shown me in life that you can't come out and expect something, you have to work hard to get to where you want to be," Mayhew said.
As for her growth on the team, Regals Softball Head Coach, Debby Day said that Mayhew has developed a lot over the years
"I have seen her become much more confident in herself, on the field and off; become super accountable for things that happen.  She's really taken on the task of dealing with a lot of stuff behind the scenes and being a great leader in that capacity.  She leads by example and she leads by what she does for us every day and she's just an amazing force on our team," Day said.
Mayhew also gives credit to her fellow seniors on the team for helping her become both the person and player she is today.
"All six of us seniors have been here for four years and I think we've kind of grown up together in a sense, and I think we all know that we play for each other and have each other's backs," Mayhew said. 
Day believes Mayhew is a leading example of the dedication of the team seen on and off the field.
"She is somebody who always does right by her teammates and her program," Day said. "It's really rewarding as a coach to see someone constantly put in effort even if maybe they aren't where they're supposed to be, but to see the big picture and work hard every day and then blossom along the way."
Though there have been many ups and downs during her collegiate career, Mayhew has been a part of many great memories including winning conference her freshman year and beating the number two team last season in ten innings.
For Mayhew, softball is a huge part of her life, and it has taught her many lessons both on and off the field that she plans to take with her in years to come.
"I've learned to be a stronger person from softball," Mayhew said.  "I think when I came here I wasn't as strong as I am, I didn't believe in myself as much as I do now.  I think that softball has helped me be more confident out on the field and then take that into my life off the field."
Alexa Barnes
Reporter