In just three years, Sean McCarthy turned his business marketing degree from California Lutheran University into his dream job of running his own coffee shop. McCarthy and his fianceé, Amber Devolites, are the owners of the Five07 Coffee Shop and Eatery, which launched this January in Thousand Oaks.
"Growing up in the area and going to CLU, there just weren't many options where people could hang out late," McCarthy said. "So I really wanted to make a spot open late where people could hang out with cool vibes and good music."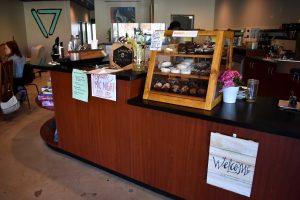 McCarthy, who graduated from Cal Lutheran in 2015, has not only started his own business, but is also getting married to his best friend and business partner, Devolites, in May.
"It's exhausting being in business with my soon-to-be husband," Devolites said jokingly. "It's challenging, but it's also an adventure because you learn so much about each other. Where one of us struggles, the other is there to pick us up and we are able to help each other out along the way."
The couple are both from Thousand Oaks. They met their senior year in high school through mutual friends and continued to talk on and off until their relationship turned into something more serious.
The name Five07 was inspired by their personal life philosophy: "The five steps to creating of something important and then doing it seven days a week."
According to their website, the five steps are: "Inspiration, build up, resistance, overcoming, and collaboration."
"One of my favorite things about running my own business is being able to control the vibes," McCarthy said. "I get to choose the playlist, control the lighting and the way that everything is laid out to provide a quality place with good energy."
Contributing to the atmosphere are large canvas paintings created by Cara Hoover, who is an art major student at Cal Lutheran.
"We wanted to have local artists in the area on a rotating basis but when we saw Cara's paintings, we thought that nothing could fit our vibes better," McCarthy said.
Along with the art is live music that occurs every Saturday night consisting of local bands in the area. This is all included in McCarthy's plan to bring the community together to a place where everyone can hang out.
Emily Powell, a senior at Moorpark College, is a local student that came to love the ambiance and service of the shop.
"The atmosphere and energy of the place is always nice, and the quality and service is great," Powell said. "The first time I came here, they gave me a free order on them just because they thought that they took too long to prepare my order. No other place is going to take the time or effort to have quality service like that."
Quality is something that McCarthy said he really preaches when running his business, even if it means working extra hard.
"There have been days where I've only gotten three hours of sleep," McCarthy said. "But every day, I come in doing what I love and try and just brighten someone's day with a great cup of coffee, and to me, that's what quality is."
In two months of opening, the coffee shop is already seeing more business than McCarthy and Devolites said they expected, and they already have regulars.
"Instead of complaining about what I wanted to have but didn't when I was in college, I went out and created something that I love, and what really makes me happy is seeing other people appreciate it. This is what I love doing and I couldn't be happier." McCarthy said.
Five07 is located on 2036 E. Avenida de los Arboles and is open every day from 7:30 a.m. to midnight.
Scott Roberts
Reporter