Junior Shows Leadership In All Aspects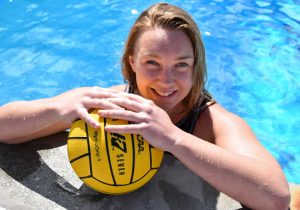 Water polo is not the popular sport of choice for most kids living in Seattle, Washington. However, junior Nikki Roed found comfort in the sport that drove her athletic career from the age of nine.
Water polo has been a large piece of Roed's life, playing on travel teams as a child and up through high school. She graduated from Chief Sealth International High School, but had to play for nearby Roosevelt High School because her high school didn't have a women's water polo team.
"It's taught me a lot about myself. As I started to play more competitively,  I had to adapt to the increased physicality of the game and also had to develop a mental toughness and how to keep a level head. The big takeaway from all my years of water polo, and probably what I'm going to remember down the road is the people that I've met and played with," Roed said.
Roed's many years of water polo experience have led her to the collegiate stage where she has excelled in more ways than just being a dominant player for the Regals. She has become a leader in the pool and in the classroom where she is majoring in Exercise Science with an emphasis in human performance.
Head Coach of the Regals Craig Rond has been at the helm for 15 seasons and  said he has seen the growth, maturity and work ethic that Roed has shown over the years, going into her third season.
"There is never a time that she is not working hard to improve her game. Nikki is a Division I caliber shooter and player. She is strong and tenacious and can dominate any game she sets her mind to," Rond said.
Rond said he could remember the joy he felt when he was able to confirm that Roed would be attending California Lutheran University and be a part of their program.
"We were so excited to get that email and knew she was going to bring a tremendous amount of physical talent to our team. She did not disappoint us," Rond said.
Currently in the 2018 season, Roed has helped to lead her team to a 10-4 record and 3-0 record in conference games. She continues to supply the Regals with offensive efficiency, while trying to better last season numbers where Roed led the team in goals (47) and attempts (95). While also having 16 multi-goal games and earned herself Second Team All-SCIAC in 2017.
Her coaching staff aren't the only ones who are impressed with how dedicated she is to the sport. Her teammates also see it and are able to feed off her energy.
"In terms of leadership, she leads by example. She is smart and knowledgeable of the game.  She wants to help people, she is very athletic and is really good at a lot of things. She is also smart in the fact that she knows when it's her shot and when it's not," said senior teammate Kristi McGee.
With her strong leadership and knowledge of the game, Roed said she has continued her love water polo in other aspects of the game. In the summers she helps coach and mentor younger water polo players in her hometown of Seattle. She said she hopes to grow the popularity of the sport in the region.
"At the pool that I started playing polo at, I've been coaching there and this year will be my fifth year. I really enjoy coaching epically that group of kids," Roed said. "I just remember learning there and learning how to play and how fun it was."
The Regals' next game will be against Chapman University in a conference match up March 15.
Dillon Brown
Reporter