Roamin' Ramen Truck Shares Taste of Asian Culture
California Lutheran University's Asian Culture Festival March 14 brought students together to learn about different cultures, exchange stories and enjoy food from Shake Ramen. At the festival, students enjoyed New Year's and holiday traditions from India, Taiwan, China, Thailand, Mongolia, South Korea and Vietnam.
"These kinds of things are what start interest in a culture – then you want to dig a little further and find out what their social injustice issues are and what their governments look like," said Assistant Director of International Student Services and Multicultural Programs Linda Boberg.
Boberg passed out red envelopes filled with chocolate coins during the event. Red envelopes in Chinese culture always contain money and are usually given to children from their parents and grandparents for New Year's, said Cindy Tang in her article for China Highlights, a travel agency and magazine.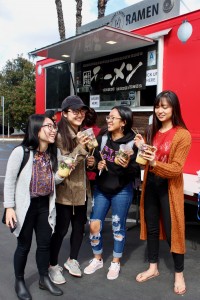 Boberg said that while she was passing out envelopes, she heard a student answering her friend's questions about the red envelope tradition.
"I said, 'Do you still do this?' and she said, 'Yes, my grandmother fills an envelope with money for us every Chinese New Year's,'" Boberg said. "What makes me happy is that [the envelope] brought [the tradition] up to her friends, who might have never thought to ask that about her culture."
Junior Jordan Fong said that he decided to attend the festival to represent his Chinese culture and answer any questions that students might have.
"People have different traditions within that culture… Even though this is a generalized concept, I was able to tell them [about my culture]," Fong said. "For example, red envelopes aren't only given by elderly people,.Younger people are considerate of older people that are retired or don't have money."
Fong said that even though he's unmarried and isn't typically supposed to, he gives out red envelopes to elders.
"It's not a treat. It's more like good luck. It's like, 'I want you to do well.' And it's not only for the holidays – it can be for birthdays and special events like business openings as well," Fong said.
Fong said that having multiple cultures come together at the event was special to him.
"[The Asian festival] was the perfect event to hand out red envelopes because we're all celebrating culture," Fong said.
Boberg said that cultural festivals might spread misconceptions if not done right, but one of the best ways to learn more information about a culture is by asking other people directly and researching.
"If you're not aware of something, you need to research it," Boberg said. "I did not know about Thai traditions, so for me it's about education. You have to do it right."
Fong said that another great way to learn about Asian culture is by going to events where you can connect yourself with the community, such as the 626 Night Market in Arcadia, which has food and craft booths.
"It's all about opening your mind and remembering that you are part of a community with different backgrounds and experiences," Fong said. "This could give insight into why people behave in certain patterns… that other people don't understand, like why some people always bow before talking to someone."
Boberg said that Cal Lutheran has always celebrated Chinese New Year but chose to also have an Asian festival to interest other Asian students in the event.
"Mao Kohara, president of the United Students of the World, was on board. We have a Cal Lutheran graduate who is in Mongolia for the Peace Corps, Crystal Guzman. She sent a bunch of pictures from Mongolian New Year to put up on the board and the Indian students offered to make sweets," Boberg said. "It just kind of snowballed into what it is."
MBA Graduate Harshit Jain participated in the event by passing out ladoo, a famous Indian treat.
"Asian festivals are vastly celebrated in many countries… We have 40 to 50 festivals and for each festival you get school holidays, which you don't find out here," Jain said.
Jain said that he celebrates Diwali by lighting candles and recently celebrated Holi at Cal Lutheran's Holi Festival March 3, which was run by Club India and the Associated Students of California Lutheran University Programs Board.
"I just arrived a few days back and I was really missing home," Jain said. "The festival helped me to get back to the old days and enjoy."
Brandy Alonzo-Mayland
Reporter