Junior Swims Her Way To All-America Honors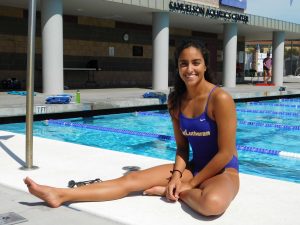 Grace Sanchez has faced adversity in the past and thrived through this adversity and saw herself become an All-American. She is not a swimmer who backs down when the challenge gets tough.
In her freshman year, she struggled with injuries but fought back to place fifth in the conference championships. Her Sophomore year produced hardships as well, as out of the pool conflicts caused a struggle and she felt herself going through the dreaded, "sophomore slump."
But through all of the challenges and hard work, she pushed her way through her junior season and into the NCAA Division III Swimming and Diving Championships where she placed 10th in the 50-yard freestyle earning All-America status.
"It's truly an amazing experience that I'll never be able to get over," Sanchez said. "After all of the hard work, I'll always be able to say that I competed in National Championships. I swam for all of my teammates and coaches who motivated me to keep going and perform at the highest level."
In her first race in the championships, Sanchez broke the school record as she touched the wall with a time of 23.44. She preceded this by placing second in the consolation finals finishing 10th overall in the nation.
"Every time I swim, I go through what's called a white-out moment," Sanchez said. "Once I get in that pool, my body begins to work off of muscle memory and before I realize it, the race is over and my first reaction is, 'what just happened, how did I do?"'
She said she attributes this skill to all of the long hours that she put to training and trusting that during the race, all of the technique and strength will come naturally.
"I don't know how it works, but when you have a white out moment, you know that you did everything to the best of your ability and you'll never be able to replicate it," Sanchez said.
But performing at the best of her ability did not always come easy for Sanchez, as the long hours and hard work sometimes proved overwhelming.
"There were times that I would just feel overwhelmed and honestly just wanted to break down," Sanchez said.
During times like these, it was Sanchez's roommate, junior Kaitlyn Sloniker, who proved to be her biggest help.
"I know how much work she puts in and all the effort," Sloniker said. "So when she's feeling overwhelmed, I just try and stay supportive and do whatever I can to motivate her, even if that includes making her food so that she can get through the day."
Sanchez attributes a lot of her success to her friends, teammates and coaches, as well as her club coach, Francois Harris.
"I'm not surprised at all of what she's accomplished," Harris said. "I always knew that she had it in her and watching her accomplish this felt absolutely amazing."
Sanchez began training with Harris when she was just 11 years old and he continues to mentor and motivate her while at Cal Lutheran.
"I was really proud that she found a way to blend what she learned from me as well as what she learned from her coaches at school," Harris said. "Even though she is at school, I continue to help her and motivate her and get through to her, that she can do this."
However, the hard work for Sanchez is not over yet as she sets her sights on preparing for  next year. She will look to improve during her senior campaign.
"My goal for next season is to work my way back to the championships and this time place in the top five," Sanchez said. 
"She can do it," Harris said. "The difference with her is that she doesn't give up when things get tough. She is a confirmation that through all of the training and hard work, you can accomplish your goal."
Scott Roberts
Reporter