Sophomore Katie Romanovich has a very busy schedule, studying communication with an emphasis in film and television. Most recently, Romanovich completed a 10-week internship program at 21st Century Fox.
Romanovich said that she worked 24 hours a week along with classes on Tuesdays and Thursdays. She said that it was not easy, but it was the most incredible time of her life.
"I was always looking at internships. I shop for internships online like I shop for clothes. So, I applied to 15 internships on Fox's website, interviewed for a couple but didn't hear back and then finally got a call back for the Animation Casting Internship position and I got it," Romanovich said.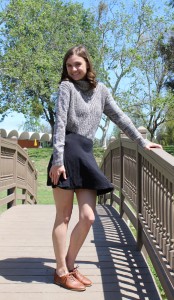 The Animation Casting Internship position consisted of having actors come in to audition for films, entering data about the actors and creating casting update lists.
Romanovich said a lot of big named actors would come in and she would be excited, but it was weird because the actors were intimidated by her, since she was casting them.
"My favorite part was having the picture of an animated character and then matching it to the face of the actor who auditioned. We then had to edit it together and make sure the voice is the character. It's basically seeing the whole movie come together," Romanovich said.
Romanovich's hard work has not gone overlooked. Her mom, Stephanie Romanovich, said she is especially proud of the hard work and enthusiasm her daughter puts into everything she does.
"Her enthusiasm for the business, her passion and character are some of her top qualities. Her people skills and high level of emotional intelligence seemed to bring her to another level at Fox. Katie's compassion for others as well as her high integrity is what I'm definitely most proud of. She never takes short cuts and stays level-headed, which is a rare trait in Los Angeles and this business," Stephanie Romanovich said.
Her mother also said Katie Romanovich has always been interested in movies. Even at a young age she appreciated the depth of a character and storyline of a movie. Stephanie Romanovich said Katie Romanovich's favorite movies as a child were "Forrest Gump," "The Wizard of Oz" and "Freaky Friday."
Katie Romanovich brought her love of film with her to California Lutheran University and uses her talents as the co-president of the Film and Television Club on campus. She said her favorite part of being involved in the club is working with people who are just as passionate as she is and that creating a work of art through film with those people is such a privilege.
Katie Romanovich's roommate, sophomore Erin Niemi, gets a front row seat to her busy life in the entertainment industry and her great passion for film. Niemi said she admires Katie Romanovich's ability to stay determined even with life's other responsibilities.
"I believe she was able to stay motivated and determined [during her 10-week internship] simply because she is a very determined person. When she has a goal, she will stop at nothing to achieve it. The world is truly her oyster and in five years I can see her name in the credits of a famous, heartwarming and inspiring film. Hollywood, she's coming for you," Niemi said.
After her internship experience, Katie Romanovich said her next step is to relax for a little before she starts to look for another developmental internship, whether it be at Fox or another television network.
She said her end goal is to become a development executive for a studio and work in producing and development of television shows.
"I've always been interested in film and storytelling, everything about it, the creativity and cooperation that goes with it. To make an amazing piece of art, like a film, is something I know I want to do for the rest of my life," Katie Romanovich said.
Luisa Virgen
Reporter