Annual Nordic Culture Fest in Park
The annual Scandinavian Festival returned to California Lutheran University this weekend and drew a crowd of thousands of people to Kingsmen Park. Sponsored by the Scandinavian American Cultural and Historical Foundation with the university's support, it's the largest Scandinavian festival in the southwest. This was the festival's 43rd year.
The two-day festival took place on April 21 and 22 between 10 a.m. and 5 p.m. and was filled with activities celebrating Scandinavian heritage and cultural diversity.
"We're trying to educate and also to entertain," said SACHF member and Festival Committee Children's Craft Coordinator Joy Brooks, who is three-quarters Norwegian. She has been volunteering at the festival and served on the committee for the past 10 years, and used to attend the event before becoming involved.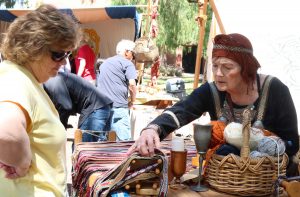 The festival began with an opening ceremony at the main stage and then continued with speakers throughout the day. Musical acts included Icelandic folk music, a performance by Redwood Middle School Jazz Band and a musical dedication to the Swedish group ABBA. Dance performances were also done by the Swedish Folk Dance Club of Los Angeles and the Scandia Dancers of Southern California. Kids and adults could also hear lectures and stories about vikings, saamis, northern lights and various folktales.
"When a child comes in they get a free backpack to put their crafts in, and if they finish at least five crafts, they get a gummy fish and a world pencil as a little prize," Brooks said.
Activities for children and adults also included maypole dancing and dressing up like vikings. Food demonstrations throughout the day of potato lefse, krumkake, aebleskiver and sandbakkels let attendees learn how to make the foods and taste them.
Julia Johansson, an international student at California State Polytechnic University, Pomona from Sweden, moved to the U.S. more than four years ago and said she attends the festival to "experience a little bit of home."
"It's nice to be in a community that reminds you of home. The energy here is great and people who come here are truly interested in knowing more about Scandinavian culture and traditions and it's nice seeing people come together for such a nice cause," Johansson said.
SACHF operates the Scandinavian Center adjacent to campus and shares university facilities and programming.
One of the volunteers at the festival was Rick Erickson, a member of SACHF who works at the Scandinavian Center. He said the center offers a wide variety learning opportunities for the community, including weekly Scandinavian-themed lectures and Swedish and Norwegian language classes for both adults and children.
In addition to lectures and language classes, the center also displays cultural art and has a library and historical museum open to the community.
Julia Westman
Reporter