Approximately 1,200 California Lutheran University students and guests attended Spring Formal at the Ronald Reagan Presidential Library in Simi Valley, California April 20 from 8 p.m. to midnight.
This year's Spring Formal, themed "Fly Me To The Moon", featured food, dancing, photo booths and a caricature artist. The Associated Students of California Lutheran University (ASCLU) Programs Board was responsible for coordinating the event.
"It exceeded all of my expectations," said junior Kalin Woodward, who served as Programs Board's logistics lead for Spring Formal. "The decorations were beautiful…The photo booths and caricature artists were a hit, and the Reagan Library staff and security were phenomenal and so on top of things. I couldn't have asked for a better night."
Programs Board director Samantha Schindler said Woodward helped secure the Ronald Reagan Presidential Library as the venue for this year's event and served as one of the main contacts between the venue and Programs Board.
Woodward said finding a venue that met all the criteria was one of the most challenging parts of the process. She said Programs Board initially considered Calamigos Ranch in Malibu as the destination for the event. However, they ultimately decided against it, citing the dangers of a lengthy night-time drive through Malibu's winding canyons.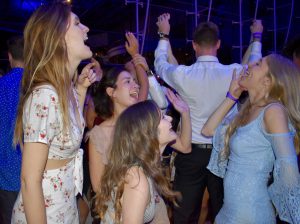 "We really wanted to find a venue that was nearby and accessible for the students," Woodward said.
The entrance was located at the top floor of the Air Force One Pavilion where guests were able to take a tour of the retired Boeing 707 plane that flew six presidents from 1972 to 2001.
Students mingled on the second floor, which featured food and non-alcoholic beverages provided to the guests at no charge courtesy of the Presidential Library's catering company. Appetizers included chicken quesadilla wedges, spring rolls, caprese skewers and other vegetarian and gluten-free options.
Cal Lu Media Services employee Carlos Velasquez, aka DJ Cali Los, provided live music on a dimly lit dance floor situated below the nose of Ronald Reagan's Air Force One. Velasquez mixed in a variety of chart toppers, hip-hop, electronic dance music, salsa music and club throwbacks.
"He played a lot more recent music which made it a lot more fun, and I had a blast," said senior Saarah Meder of the DJ, who thought he was better than ones at past events.
"The energy on the dance floor was so high," Velasquez said. "It was good seeing everyone singing the chorus and verses to their favorite songs. It was an amazing thing to witness."
Unlike last year's spring formal, admission was free for Cal Lutheran students with a valid student ID. Each student was also allowed to bring one guest free of charge until 11:15 p.m.
"We feel like students shouldn't have to pay extra for a ticket because you're already paying for your student fees, which is paying for these things to happen," Woodward said.
According to the March Programs Board budget posted online on March 22, Spring Formal was awarded $40,606.68. That budget includes the fee for the venue, DJ, catering, lighting, equipment and marketing
This year's event marked the second time in four years that a Cal Lutheran spring formal was held inside the Ronald Reagan Presidential Library. Woodward said that the Programs Board landed on the Reagan Library because it "checked all the boxes of everything you wanted in a venue."
"They were so willing to work with us," Woodward said. "It's just a beautiful venue and it's really close by."
Jake Gould
Reporter