Regals Grab Win On Senior Day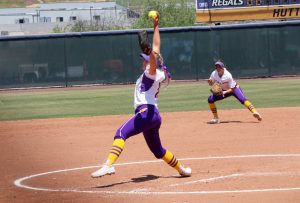 The California Lutheran University Regals ended their season on a bittersweet note.
The Regals took on the Claremont-Mudd-Scripps Athenas  Saturday, April 28 in a double header series. The two games marked the end of their 2018 season and the six seniors' last games of their college careers.
The Regals lost to the Athenas 1-0 in the first game. Though the Regals had some solid hits by senior outfielder Jacy Watanabe and sophomore infielder Kendall Marinesi, they couldn't quite manage to score any runs on one of the highest-ranking pitching staffs in the Southern California Intercollegiate Athletic Conference.
Sophomore pitcher Brittany Workman pitched all seven innings, only allowing one run and striking out four batters. Claremont-Mudd-Scripps scored in the fourth inning and Cal Lutheran was unable to make a comeback in the next three innings. The Atenas shut down the Regals with a 1-2-3 inning in the seventh the clinch the victory.
"We were putting the ball in play and made some good defensive plays. We just didn't come up with the timely hit when we needed it," said Assistant Coach Erin Farley.
The Regals came back with a vengeance in the second game of the series and final game of the season, sweeping the Athenas 9-1. The Athenas were quick to put points on the board, scoring a run in the top of the first inning. The Regals fought back in the bottom of the first, with a double and then a run by senior third baseman Olivia Leyva and another run by senior infielder Antonia Rapisardi.
The Regals continued to stack up points on the board in the second inning with runs by senior infielder Makenna Pellerin, Leyva, Rapisardi, Marinesi and Workman.
Watanabe and Leyva scored another run each, putting the run-ahead rule into effect and ending the game at the bottom of the fifth.
Feelings were mixed for the 2018 seniors as they finished the final game of their college careers and ran off Hutton Field for the last time.
"It's a pretty bittersweet feeling," Watanabe said. "I don't know whether I should cry or be happ. It's sad but at the same time I feel like we left it all out on the field."
Farley said that the Regals grew immensely both as a team and as individual players this season.  With no returning seniors next year, she said the current freshmen and sophomores on the team are going to play very key parts in the 2019 season.
"They're going to have big roles to fill and they've learned a lot to be able to fill those shoes," Farley said.
Finishing sixth in the SCIAC this season with a 17-23 overall record, Farley said that their goal for the upcoming season is to finish in the top four in SCIAC and make it to the conference tournament.
"A record doesn't always show what you put into it," said Head Coach Debby Day. "Ours certainly doesn't have any indication on how hard these girls work, how passionate they are and I am completely proud of what they've done and how far they've come."
Brooke Stanley
Reporter