Graduate now works with Dodgers, Lakers and more
Van Wingerden, 22, was a marketing communication major and sports management minor and is now working as a production assistant in the social media department at Spectrum Sports.
"I've always loved social media and I am a huge die-hard Lakers and Dodgers fan, that's why I wanted to go into sports," Van Wingerden said. 
Van Wingerden said she met someone in her freshman residence hall who had a brother working for the Lakers. When she was looking for internships later, she connected with him on LinkedIn. Right before she graduated, she was offered a part-time job. 
Spectrum Networks covers the Lakers, the Dodgers and Galaxy teams. The social media department does pregame and postgame coverage for the teams, and live updates during the games.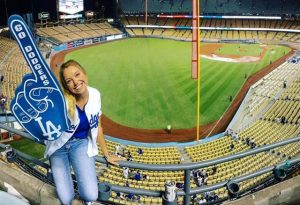 Senior and marketing communication major Sarah Girgis is a close friend of Van Wingerden.
"She is the kindest person you'll ever meet in your entire life. She is hands down the sweetest little human to ever walk this planet," Girgis said.
Girgis and Van Wingerden met second semester of their freshman year when they both became presidential hosts for the campus. 
The first day on the job, Girgis said she showed up and felt nervous until Van Wingerden entered the room. 
"Talia, beautiful, Van Wingerden walks through the door and I was like, 'You are going to be my best friend. I hope you're prepared,'" Girgis said.
Van Wingerden said they instantly became friends and Girgis said they have been inseparable ever since.
"Throughout my college experience, she was always my rock," Van Wingerden said.
When Girgis was diagnosed with cancer, she took a year off from school and moved back home. Van Wingerden would drive to San Diego to support her best friend through treatments.
"She never treated me like I was sick," Girgis said. "She was definitely a light during that time."
Van Wingerden even organized a fundraiser for Girgis through the American Marketing Association of which she was president at the time. 
"You can't just sit around when someone you love is in pain," Van Wingerden said.
Girgis said their friendship is all about taking care of each other and their friendship must be great considering that it survived the "fluidity of life."
Senior math major Nelson Pyle, who has been Van Wingerden's boyfriend for two years now, said that she always puts other people's needs before her own.
The two first met when he was playing intramurals and she was an intramural referee.
"I wanted to meet this girl who was always smiling and laughing and having a good time," Pyle said.
Their friendship really started when Pyle was working at Starbucks. Van Wingerden would come in to order and they would talk.
"I didn't even like coffee, but I went because I saw that he worked Tuesdays and Thursdays when I had a gap," Van Wingerden said. 
She said she would go in and buy a fruity drink just as an excuse to talk to him. That turned into a long-term and now long-distance relationship.
Pyle said that it has been hard since she graduated and moved to Los Angeles because they don't get to see each other as often, but their relationship is all about living in the moment and the distance makes them enjoy the time they do spend together even more.
"That smile and that joy that she brings into the room is something that everyone wants a piece of," Pyle said. "She's one of the greatest people I know."
Rissa Gross
Reporter