PRIDE Club Hosts Drag Show
The Preus-Brandt Forum was filled with students Friday night as the PRIDE Club, with the help of the Associated Students of California Lutheran University Government, hosted its annual drag show. Feel-good pop music from Madonna to Lady Gaga blared from the speakers and six students dressed in drag took to the stage to lip sync.
The show's host, senior Kyle Poppert, led the crowd in warmly welcoming each performer. He said he had never hosted an event before, but his risqué jokes and quick transitions between songs kept the audience laughing throughout the evening.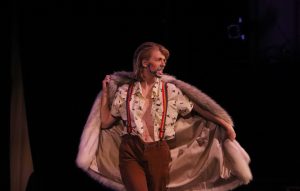 Drag queen Tammy Pax portrayed by Anthony Wermer also garnered laughs from the audience during her performance as she twirled along to "I Touch Myself," a 1991 single by the Divinyls. Midway through her performance she took off her pants and removed a large pink sex toy from her boxers. She spun the phallus around her head several times before flinging it at an audience member, who tossed it to a friend.
Lorenzo Giampietro is a friend of junior Ruth Smitherman, drag king "Babe Ruth," and was visiting from out of town to catch the show. He said Tammy Pax's dildos were his favorite part of the evening because they caught him by surprise.
Other performances included drag queen Erica Gloss portrayed by Thomas Little dancing to "EXXPEN$IVE" by Erika Jayne and sophomore Jordan Erickson as Sashay Fierce performing "Too Many Fish In The Sea" by Bette Midler. Each student performed at least two songs. 
Midway through the program, Poppert and senior Ryan Moguel as drag queen Ebony Ivory invited six students from the audience to the stage. They competed in an impromptu catwalk until, by audience vote, only Giampietro and Cal Lutheran sophomore Claire Meuter were left.
Meuter and Giampietro then faced off in a dance competition to Britney Spears' "Toxic" for bragging rights. The pair pranced and gyrated across the stage while the audience clapped in time to the beat. Despite Meuter completing a hip thrusting bridge pose on the ground, it was Giampietro and his twerking that won the dance-off.
Ebony Ivory later returned to the stage for her second performance and got cheers when she removed her wig mid-song and flower petals fell from her head.
"That moment was everything," said Poppert, who said it was reminiscent of a contestant from the reality show RuPaul's Drag Race. In the show, drag queen Sasha Velour removed her wig in a similar fashion before claiming the top prize.
The show concluded with a final performance by drag kings Sofia Herrera as Papa Cherry, Katie Shearer as Christian Mingle and Babe Ruth. The trio danced to a song by the Jonas Brothers to finish off the evening before inviting the rest of the performers back into the limelight. By the time the music stopped, the stage was covered in Monopoly money, rose petals, a large inflatable penis and the wigs of several drag queens.
"I just love being able to perform," Smitherman said after the show. She said she couldn't pick a favorite part of the evening as she wiped a blue glitter beard from her face.
On the way out, miniature cakes from Nothing Bundt Cakes were served. Students left the forum dancing and laughing with each other. Members of the PRIDE Club and Multicultural Center stayed behind to clean up after the evening's celebration.
Poppert said he was excited about how the event went. He said it might seem strange that a religious school would have such an active LGBT community, but not on this campus.
"Cal Lutheran does an amazing job making students feel included; it's no wonder we have a pride show," Poppert said.
Katherine Lippert
Reporter