Cal Lu Celebrates Green Week
California Lutheran University worked to raise awareness of environmental issues with its annual Green Week, a week-long event with organized activities each day to educate students.
Cal Lutheran Community Service Coordinator Madeleine Liberti said the events are focused on educating students about ways they can lower their carbon footprint. The week started on Monday, April 23 and continued to Thursday, April 26.
Liberti said the events included raffles and giveaways of reusable products intertwined with information and quizzes about the environment. Liberti said she was excited about creating this event because the campus seems to care about environmental issues. She said she appreciates how the students have a lot to contribute.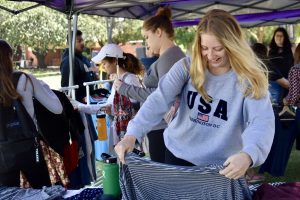 "We focus on a lot of different areas of community services. One of those is definitely environmental issues and from my time at the university I can tell that its near and dear to many student's hearts," Liberti said.
Liberti said she got ideas from student interns and on-campus clubs. Her role was to provide all the tools necessary for students to realize their goals for the events, and she said she let their passions guide the direction of the week's activities.
"The vision came from the students who work in our office. Also, we reached out to the SEEd Garden and the Green Club to make the week even better and try to get as many areas of campus involved as we could," Liberti said.
Liberti also said she accepts ideas from students and encourages people to contact the on campus community service department if they have any ideas for future events.
Laura Willits, a junior marketing major and community service intern, helped plan the clothing swap and local food event on Thursday. Activities included donating and getting used clothes and eating local fruit and vegetables. Willits said going to local farmers' markets can help reduce carbon emissions and help the environment. She also said the fresh food can taste better and create a more enjoyable experience for the consumer.
"There's a lot of really cool farmers' markets and its the same price as Vons and makes it more of an experience. Farmers' markets are so cool because you get to interact with someone who's grown your food, you get it at a good price because you cut out the middleman, and you have a good, fun Saturday," Willits said.
Willits said 84 percent of clothes are thrown away rather than donated. She also said buying one shirt secondhand can save thousands of gallons of water. Willits said the event was meant to show students how they could make a difference in their community by donating and buying from thrift stores.
"As students, we get forced a lot of information and we're constantly hearing, 'Oh you should do this, or you should do that.' So people can bring clothes and actually feel like they're making a difference rather than just hearing how they can make a difference," Willits said.
Alyssa Frausto, a first-year marketing major and Programs Board representative, helped organize Thursday's event as well. She said she learned a lot about how to reduce waste and the benefits of being environmentally friendly. Frausto said she recommends students shop at thrift stores to both save money and help the environment.
"It wasn't even brought to my attention that these were issues until we sat down and thought of what we could do," Frausto said.
Devynn Belter
Reporter