Students Enter Startups in New Ventura Fair
California Lutheran University held a New Venture Fair showcasing startup businesses created by students Thursday, April 6 at the Lundring Events Center.
The New Venture Fair showcased 11 student-run startup ideas ranging from a photo sharing software company to a chain of Hispanic grocery stores.
Michael Panesis, executive director of the Center for Entrepreneurship at Cal Lutheran, said the event is designed for students to create viable products and get a feel for what it's like to be an entrepreneur.
"The fair is an opportunity for our Cal Lutheran student-led startups to show off their startup projects. It's a good exercise for them to understand what it is," Panesis said.
Five businesses were awarded the opportunity to compete at the New Venture Ventura County competition happening Saturday, May 5 at Cal Lutheran. The five finalists will be competing against other college students in Ventura County for the first-place prize of $5,000.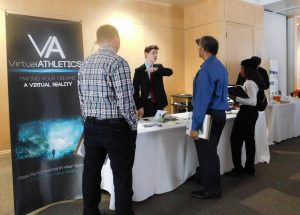 The judges picked four of the five finalists, while the public was able to vote for the fifth and last spot. Attendees were given five tickets to place at their favorite booths. The judges also handed out $500 prizes for the best elevator pitch, booth and brochure.
Two businesses were awarded the best minimally viable award, which came with a prize of $750 and a chance to pitch at the University of Southern California Angel Venture summit.
The five businesses selected to represent Cal Lutheran at the New Venture Ventura County were the Virtual Athletics, FamWe, Liborio Markets, Production Hog and the Red Rose Project.
Junior Brianna Bryan, the founder of the Red Rose Project, said she created her platform after not finding a site that accommodated the needs of artists.
"I wanted to make one place for artists to go to that displays their whole entire profile kind of like an artist portfolio and make it really social, organized and professional," Bryan said.
Bryan said her next step is "revamping the website" to be more user friendly and generate more users.
#Local, the winner of the best pitch and minimally viable product, is a mobile phone application that is designed to connect college students with one another. #Local describes itself as a simple and user-friendly app that is open to students from that college only.
The best booth was awarded to RecruitU, a tool that lets high school athletes contact and connect with college coaches.
Junior Chad Taylor, founder of RecruitU, said he came up with the idea after hurting his shoulder and having trouble contacting collegiate baseball coaches in high school.
"That's what gave me the idea to compile all this public information into one database where we can instantly email, phone, call, message, send statistics and highlights with the click of the button," Taylor said.
Taylor said RecruitU will make it easier for college coaches to connect with high school prospects and vice versa.
FamWe, one of the five businesses competing at New Venture Ventura County and the winner of the minimally viable product prize, is an application that is designed to connect families and get family tasks done.
The winner of the people's choice award was Virtual Athletics, a business that will sell virtual reality equipment intended to enhance athletes' training.
The New Venture Fair was organized by the School of Management and was part of the Festival of Scholars. All cash prizes were funded by the NewCo Foundation. The next School of Management event will be an entrepreneur speaker series at Hub101 Wednesday, May 1 at 6 p.m.
Manuel Lira
Reporter