New Swim, Dive Coach Ready to Make a Splash
For over 20 years, Barry Schreifels and his family have called Conejo Valley home. When the opportunity to take a coaching job close to his Agoura Hills home opened up, he knew he had to go for it.
"I was very surprised when the job came open," Schreifels said. "To be able to work at a school like this at this level with these facilities, I'm the most fortunate guy in the world."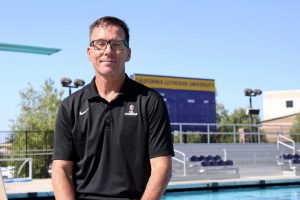 Back in June, California Lutheran University announced that Schreifels would be the new head coach of the men and women's swimming and diving program, replacing former-Head Coach Tom Dodd, who stepped down after 15 seasons.
"Tom's been a friend of mine for many years, and I expected him to keep coaching here forever," said Schreifels, who brings 24 years of collegiate coaching experience to the purple and gold.
Schreifels' path to collegiate swimming is unusual. Born in Red Deer, Alberta, Canada, swimming wasn't his first love – hockey was. His start in swimming began at the Skagit Valley Family YMCA in Mount Vernon, Washington, home to a four-lane 20-yard pool built in the 1930s.
As a student at Burlington Edison High School in Burlington, WA, where there was no swim or hockey team, Schreifels instead lettered in football and golf, winning three state championships between the two sports.
After graduating high school in 1980, Schreifels joined the hockey team at Western Washington University. It was during his time on the ice that Schreifels felt the urge to get back into the pool.
"I got my start in coaching back at the Skagit Valley YMCA in 1981, and in 1983 I was brought on to coach nearby at Mt. Vernon High School," Schreifels said.
After graduating from WWU in 1984 with a bachelor's degree in secondary history education, Schreifels continued coaching high school until 1986, when an opportunity to be a Division I assistant coach at Ohio University came calling.
"There was a coach at Ohio University named Scott Handler who hired me on the spot when he was just hired," Schreifels said. "He turned me into a sort of local high school coach, into an assistant who could look nationally."
While at Ohio University, Schreifels completed his master's degree in athletic administration. For three years, he helped the Bobcats stay afloat in the competitive Mid-American Conference, earning a conference title his final year in 1989.
Schreifels went on to be an assistant coach at Arizona State University, where he coached 10 Olympians and 27 NCAA All-Americans before accepting his first head coaching job at California State University; Northridge.
In 1995, his third year with the Matador program, he was named Pacific Swim and Dive Conference coach of the year. For 18 years, Schreifels led the Matadors and served as the school's head of aquatics until the program was cut by the athletic department in 2010 due to an ongoing statewide financial crisis.
In an interview in 2010 with The Sundial, CSUN's daily student newspaper, Schreifels told reporters he was "shocked" and "disappointed" with the decision to cut the program.
Since arriving at Cal Lutheran, Schreifels said he already feels a strong connection to the community, and he hopes to create a positive working relationship with faculty, student athletes and potential recruits.
"One of my jobs is to get out there not only in the Southern California area, but also nationally and let everybody in the swim community know how great of a place this is to come be a student and swim," Schreifels said.
Schreifels said he loves motivating people and one of the core concepts of his coaching philosophy involves challenging his swimmers to find their inner motivation.
"I think the best results come from a motivated athlete," Schreifels said. "Swimming is a difficult sport, so there has to be some kind of internal motivation. If I see a student athlete has that, and I can lead them and help them achieve that, there's no limit to what we can accomplish here."
Despite the fact that it is still offseason, there is already a high level of anticipation coming from all ends of the Cal Lutheran swim and dive program.
"I am very excited to meet Coach Barry, and from what I know about him, he seems like a very knowledgeable coach," said junior sprinter Brianna Baldwin.
Senior sprinter Grace Sanchez is currently studying abroad in Spain, so she will have to wait until next semester to begin practicing with the team. The Division III All-American honorable mention in the 50 free and 100 free is eager to jump back in the pool when she gets back to the states.
"There will always be obstacles to encounter as a team, but we will grow to be so much stronger from them," Sanchez said. "I think it's going to be an exciting year."
Schreifels said he is excited for the opportunity to make his mark on the program, as voluntary team sessions in the pool will be starting shortly.
"I will wear them out," Schreifels said with a smile. "But it's going to be a wonderful year and I know we'll be ready."
Jake Gould 
Reporter