Syrian Student Fulfills College Dreams
"I felt like I got accepted to Harvard. I cried so much it was like the happiest moment of my life," said Rama Youssef with a smile on her face.
Youssef is a first-year student who immigrated from Damascus, Syria and said she is extremely proud and excited to be a student at California Lutheran University.
"One of my passions is not just to get my degree and get money out of it, but also give back to the community," Youssef said.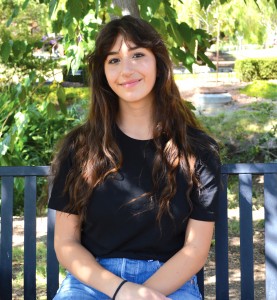 As a biology major, Youssef wants to become a dentist and her goal is to go on missions to help people without access to medical care.
Starting at Cal Lutheran this year, Youssef is excited to see how the challenge of life in the United States over the past five years has  prepared her for success.
"I like volunteering in my community and I am passionate about helping people who are going through what I went through five years ago when I came here," Youssef said.
When she immigrated from Damascus in 2013, she moved to San Diego, California. She said that adjusting to public school was difficult, but she learned how to stick up for herself.
"I learned that I can educate people so I can make a small change in the way people view my country, " Youssef said.
After three years in San Diego she moved to Portland, Oregon, and started as a junior at De La Salle North Catholic High School.
"I love Portland so much; it's a very liberal city. I met so many wonderful people and I went to a nonprofit high school that helped minorities go to school," Youssef said.
She said her high school was very family-oriented and something she missed after leaving Damascus, where everyone knows everyone. Youssef comes from a family of six; all three of her older sisters got married very young and her parents did not go to college, so she is a first-generation student.
"Women there tend to care about finding a rich man to live a good life and I was always like, I want to be the rich one myself. I don't need a man. I feel like if I was still there, I would've married young and fell into that life," Youssef said.
Youssef has a very driven attitude and said she has always been that way.
"As an Arab female here, I was alone and I was given the opportunity to be alone and make my own decisions, so I succeeded. I knew what I wanted, I knew how to get it, so I just went after it," she said.
Youssef said she always wanted to go to college, but she knew she could not take out loans. She applied for 50 scholarships and received one of them to attend Cal Lutheran.
She heard about the university through a college fair at her  high school. She said she was happy when she heard about the Books Not Bombs scholarship program and emailed Dane Rowley, director of international admission about her interest.
The organization Books Not Bombs works with universities to provide scholarships for Syrian students. It came to Cal Lutheran through alumna Kellie Warren who is a campus advocate for refugee scholarships.
"I heard about Books Not Bombs through the Karam Foundation while I was looking for ways to help refugees.  I loved the idea of helping to create education opportunities for them since that would make a lasting impact on a refugee's life and help them become leaders," Warren said.
After talking to Rowley and completing the interview process Youssef finally heard back that she had been awarded the scholarship and could attend her dream school.
In an email interview Rowley said, "When my colleague Adriana Dominguez and I skyped [Youssef]to tell her that she had been awarded our first ever scholarship for the Books Not Bombs program, all of us were very emotional and it was an incredible point of connection."
In high school, Youssef was introduced to Hazar Jaber, a Syrian dentist who also lived in Portland.  Jaber developed a unique bond with  Youssef.
"She treated me like her daughter. She asked me about my story, and I relate to her so much because she grew up in Syria," Youssef said.
Jaber said this grew into a special relationship where they could both talk about being from Syria and how to achieve their personal goals.
"I would describe her as inspiring and curious because she is someone who has gone through a lot and is doing fabulous things. Also, she is always thinking and wanting to know more and how things are done- I love that about her," Jaber said.
With all the support and dedication she has had to get to where she is today, Youssef said she is extremely excited to be starting her first year at Cal Lutheran.
"I feel like I just started my life, and I am so excited that I live on campus and I have so many resources around me that I can use to succeed," Youssef said.