Regals fall to La Verne Leopards 3-2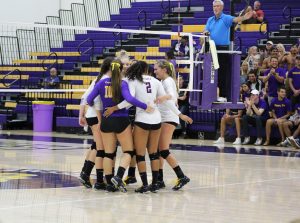 The California Lutheran University women's volleyball team fought hard in a five-set match against the University of La Verne. After a weekend of competing in the Cal Lu Fornia Invitational, the Regals came out a set behind the Leopards in Wednesday night's match.
"We came in fired up," junior libero Carly Rose Howard said.
Starting off strong, the Regals scored eight straight points to close out the first set 25-18. Carrying that energy over to the second set, the Regals took a quick 5-2 lead and never looked back, winning the second set 25-17.
With two sets completed and only one more needed to earn the victory, the Regals came out with another hot start. The Regals quickly gained a 3-0 lead, but the Leopards picked up momentum.
"We weren't expecting their energy to build up," senior middle back Paris Dosch said.
The Regals lost an intense third set 25-23.
"We lost a little bit of our confidence and took a little bit off of our swing," said Assistant Coach Kevin Judd, who is also the men's volleyball head coach.
In the fourth set, still needing just one set to win the match, the Regals failed to regain that confidence. They lost the set 25-18, pushing a fifth.
With senior outside hitter Amanda Roberts and Dosch at 13 kills each and first-year middle hitter Maci Haddad following them with 12 kills, the offense was present. However, the Regals were unable to put enough points on the board in the fifth and final set, losing 15-10.
"I was going with the mindset to stay aggressive and do whatever I can to help out my team," Dosch said.
Dosch said that the team needs to rest and recover in preparation for their next match.
"We have got to come out tomorrow and have the best practice," Dosch added.
The following weekend, the Regals headed into the East-West Challenge hosted by the Claremont Colleges in Claremont, California, but failed to end their losing streak. They went 0-3 in the tournament, losing to Washington University in St. Louis, the University of Texas at Dallas and Juniata College.
They will now look to break their six-game losing streak and improve their 6-6 overall record.
"We've learned a lot tonight and in the last weekend and so we have a lot to focus on," Howard said.
Joe Zimmerly
Reporter