Tritons triumph over Kingsmen 16-6 in season opener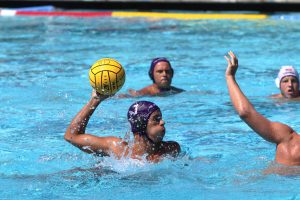 The California Lutheran University men's water polo team suffered a tough loss against the nationally ranked University of California, San Diego Tritons, falling 16-6 at the Samuelson Aquatics Center on Wednesday, Sept. 12.
The Tritons got off to a quick offensive start, but the Kingsmen defense battled back. They got into some much-needed offensive six-on-five progressions with help from senior center defender Justin English and junior attacker George Lundgren, who tallied four of the team's six goals.
"I think we did really well. They're a top 10 team and they exposed some of our problems, but the biggest thing that we're going to try to do is work on those problems this weekend in Connecticut and come back and use it to beat the teams in our conference," English said.
English scored the first goal of the game for the Kingsmen and sophomore attacker Parker Jory had a goal of his own.
"I think we have a lot to learn and that game really showed it," Lundgren said. "I think we came out hard against this team, but they're obviously a super talented team and they really physically beat us down, but I think we'll learn from what we did in that last game and in this game."
Head Coach and Associate Aquatics Director Craig Rond said he was proud of how his team performed in the first home game of the season, but is looking forward to working out some of the offensive kinks.
"There was a lot of good to take out of it," Rond said. "I think coming out of the game, they're just good shooters and we got into exclusion trouble early. We were kicked out four times in their first five possessions and they scored on four of them, so we were in the hole, 4-0, and scratching back takes a lot of energy against a team like that. I thought that once we settled down, the defense was pretty good."
Though the Kingsmen drew a total of 16 ejections, they struggled in finding the back of the net.
"I think the biggest thing for us is our six-on-five, which is where we're a man up…wasn't very good. I think we were three for 16, which is a really low percentage, and our goal is to get that to 60 percent. And if we did that, then it's a four or five-goal game, and we're much closer," English said.
On the defensive side, first-year goalkeeper Johnny Hirn had five saves for Cal Lutheran in the first half. In the second half, sophomore goalkeeper Andre Rivas tallied six saves of his own for the Kingsmen.
"I think we came out defensively a little sluggish," Lundgren said. "I don't think we were communicating very well, but I think when we got into the second half of the game, we communicated a little better. If we're going to run a zone-D, then we've got to communicate with our center D and our players that are running the zone."
Rond said the team needs to improve their passing and work on their six-on-five man advantage.
"We've got to at least strive to be 50 percent on that," Rond said. "If we would have, you would've seen a different result probably. We would've been right in the game."
The Kingsmen headed to Connecticut on Thursday, Sept. 13 for the Connecticut College Tournament, finishing with wins against Penn State Behrend, Connecticut and Iona Colleges and a loss to Gannon University.
The Kingsmen will face California Institute of Technology in their first conference game of the season on Wednesday, Sept. 19, looking to improve their overall record of 3-3.
Alexa Barnes
Reporter