With topics ranging from fashion to chemistry, the seven new clubs that join the ranks of 100 existing clubs at California Lutheran University are sure to entice students from all corners of campus.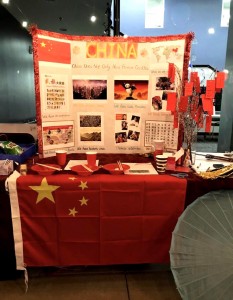 The new clubs are the Chinese Cultural Club, the CPR Heroes, But Make it Fashion, the Knights Chess League, the Human Resource Club, the Secular Student Association and the ACS Chemistry Club.
"There's so much you can get involved with," said Cambria Teter, coordinator for student involvement. "There's so much under the sun and even if there's not something that piques your interest, you can make your own club."
One of the new clubs this year is the Chinese Cultural Club, led by club president Xuan Luo. Luo said the club was active several years ago but disbanded after lack of participation. She and several other Chinese students decided to revive the club this year.
"We want to use this club to provide cultural diversity to our university and we also think it's an opportunity for Chinese international students to get involved in campus life," Luo said.
She said she hopes the club will be able to provide many activities for the campus, including an activity September 24 for the New Moon Festival. In the future, she plans on organizing other club events such as food nights, a dumpling-making day and Cal Lutheran's World Fair. If the club gains enough interest, she would like the club to take a trip to Chinatown in Los Angeles to learn more about Chinese culture.
"It's open to all students from our campus," Luo said. "For anyone who wants to know or learn more Chinese culture, those people are welcome to join us."
The ACS Chemistry Club is another new club that may find interest among STEM students. Like Luo, club president Nodir Mamatov is resurrecting a once-active club back on campus for those interested in this field of science.
"We wanted to create some space where chemistry and biochemistry students can get the updates about what's happening in their departments, and also to just bring students together," Mamatov said.
He said he hopes that with enough membership, the club can organize museum tours or field trips, and bring expert speakers to the campus.
One reason Mamatov decided to restart the club was to provide more information about chemistry graduate degrees to Cal Lutheran students.
"Over the summer when I started applying for graduate schools, the graduate schools had a lot to offer," Mamatov said. "Some of it were the departments or the programs that I had never heard of, like, for instance, fermicology or toxicology."
Mamatov said that since Cal Lutheran does not offer a graduate degree in chemistry, he would like to bring speakers to the club to provide more information about graduate programs to juniors and seniors interested in furthering their study in chemistry beyond college.
Bringing a competitive edge to club life, the Knights Chess League has something to offer for chess rookies and champions alike. President Nathan Mittenzwey is bringing his professional experience to teach students how to play.
"I'm from St. Louis, Missouri, and over there, like, chess is a huge deal," Mittenzwey said. "That's where all the world championships are played every year. So as a result, lots of the schools around, like all the high schools and stuff, they all have teams and they have leagues."
In high school, Mittenzwey was "board one," or top player, on a 30-person team and studied under world-famous Grandmaster Varuzhan Akobian.
When Mittenzwey found that the chess presence in Thousand Oaks was limited, he decided to spread his love for chess through individual coaching, but the Knight Chess League will give him a chance to coach a larger group of players.
He said he plans on teaching new players the basics of the game, while helping the more advanced members with more advanced techniques.
For more information about other new clubs on campus, students can visit the Involvement Fair Tuesday Sept. 18. Clubs can be created on a rolling basis throughout the semester, and the Clubs & Organizations page on Cal Lutheran's website gives more information how to start a new club.
Lauren Graf
Reporter