Leaving autism at the starting line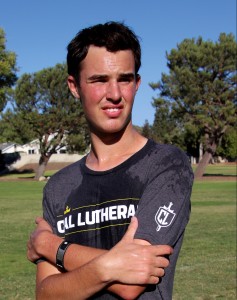 Dillan Barmache types on an iPad to talk, or points to a letter board to spell out words. He has a form of autism that gives him limited control over his body movements and ability to speak. But when he runs, Barmache is just like any other athlete.
"He's just another one of the team members now—like nothing's different, he's just one of the guys out there running every day," cross-country Coach Brett Halvaks said.
Barmache started running in fifth grade, when his teacher got him involved in a local running club. He began running competitively in high school and ran cross-country during all four of his years at Canoga Park High School, where he also earned a scholar-athlete award.
Now a collegiate athlete defying the odds, Barmache is accompanied by Cal Lutheran alum Daniel Tustin during practices and races. Tustin, who ran cross-country and track and field as a Kingsman, runs with Barmache to help him stay on pace.
"He's definitely exceeded my expectations and I think he's exceeded his expectations…he has a lot more in the tank than I think he knew that he did," Tustin said. "Physically and mentally he's there; it's just a matter of being able to harness that and stay focused and perform on race day, but he's got it. He's got a lot of potential."
In his first collegiate cross-country season, Barmache has hit the ground running. In his second collegiate race, he ran the 8K in 34:15.2, improving his personal record from just two weeks before by over two minutes.
Barmache also ran a half-marathon with his dad, which he said was the longest and most ambitious event of his life. On his blog, Typing4Change.com, he talks about the freedom he feels when running.
"I finished the half-marathon just like the waves of people around me did. I was part of them and I fit seamlessly among them. You can't imagine how rare that is for me…I'm always different. I'm always other. But when I ran that day I was just a runner. I was just Dillan," Barmache wrote.
Barmache said that running allows him to "leave autism behind" and gain a feeling of control over his body that he usually lacks.
"It's probably the one area in his life where he has the most focus and the most control," Tustin said.
Barmache first expressed his interest in joining Cal Lutheran's cross-country team during his senior year of high school. After reaching out to the coaches, Barmache visited a few practices and got a feel for the atmosphere. Once he decided on Cal Lutheran, he worked with the university's Autism and Communication Center to help get him started.
Barmache said the reason he chose Cal Lutheran was its "openness to supporting my unique situation as a person who types to communicate."
Barmache is a self-advocate with autism who has spoken at conferences such as Medicine X at Stanford University and been featured in two short films by Apple, Inc. in celebration of Autism Acceptance Day. He is pursuing a degree in psychology in hopes that he can one day use his education to give those with similar conditions the opportunity to achieve higher education.
"He feels like there should be lots of Dillans walking around that campus…He's advocating that everyone should have the choice," Barmache's mom, Tami Barmache, said.
Tami Barmache said that, so far, Dillan is enjoying his classes and "is exactly where he needs to be."
Though he constantly faces challenges of autism, Barmache also focuses on the positives.
Barmache said what he loves most about cross-country is, "being a part of the team and knowing I am only another runner, not special, just an athlete."
Tustin said that he is glad he took on the challenge of being Barmache's running partner and that they are continuing to develop a relationship out on the course.
"It's really cool to see that he's really just like any other person. He definitely has a sense of humor, it's just you can't really see that until you see him communicate and are actually able to interact with him," Tustin said.
Barmache's message is simple:
"I want people to know I see them even if it looks like I am in my own world, and I can't reach out even when I want to. So, if you reach in, that is how you can find me."
Tristan Jackson
Reporter
Brooke Stanley 
Sports Editor