It takes two: Miller sisters take on second season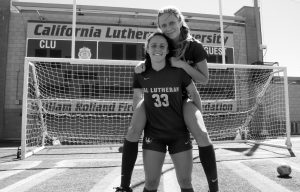 Jordan Miller and Remi Miller are sisters and teammates headed into their second consecutive year of playing collegiate soccer with each other.
"I enjoy it a lot…I know how she plays and we work well together," Jordan Miller said.
Senior midfielder Jordan Miller and sophomore forward Remi Miller have found a way to not only coexist on the field, but to excel together as teammates and sisters.
"We fight a lot on the field sometimes, but, like, in a good way. We challenge each other and we know how to play with each other, so when we are in together it works really well," Remi Miller said.
Head Coach Frank Marino said he has enjoyed getting to watch and learn more about the Miller girls while coaching them in their first collegiate season together in the 2017 season. 
"They're definitely two different personalities and two different players playing different positions. It's been cool having sisters playing in our program. I think it says a lot that, obviously, Jordan has liked her experience enough that her sister decided to come and play with her and I think it's kind of a cool aspect to play with your sibling," Marino said.
Though they spend almost every day together, neither sister seems to mind. They both agreed that playing together has made them closer.
"I feel like we've been pretty close ever since we were little, but, as we get older, we have more of the same interests," Jordan Miller said. "Being on the same team, we spend more time with each other. I feel like it's good for us and I love it."
Different on and off the field, the sisters are far from the same person, but Marino believes that it's been an influential experience for the Miller girls to play together.
"Jordan's experience being in our program, understanding and knowing how we do things, all the expectations…being able to share those with her sister is huge," Marino said. "And they are really able to share them on a deeper level because of their relationship, so I think that being able to do that is invaluable for Remi as she grows in the program."
The benefits are not just one- way. Though Jordan Miller is the older of the sisters, Marino said he thinks she learns just as much from teaching her younger sister.
"During [Remi's] freshman year, Jordan was more protective of Remi in the sense that it was the 'big sis' thing and I think that, as they've grown through the years, it's become more as peers on the team," Marino said.
Though they might not always get along, they both say that playing together motivates them to play harder.
"When she's there I'm reminded to work my ass off…I always feel like I'm the better soccer player and she'll always say the opposite, but she definitely pushes me in different aspects and reminds me of what I need to do," Jordan Miller said.
Remi Miller said she also learns from her sister on the soccer field.
"Seeing her play and seeing how tough she is—because that's one of the things that I'm not the best at is being aggressive—I can see her do that and know that I need to do that," Remi Miller said.
Learning from one another and playing beside each other, Jordan Miller and Remi Miller look to take on their second and final season playing together as Regals.
Alexa Barnes
Reporter