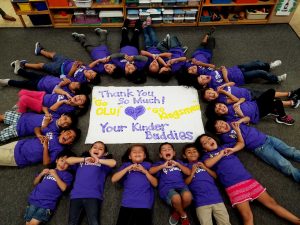 "No excuses! After high school comes college. College begins in kindergarten! Class of 2035!" is the Kinder Buddies daily chant.
The Kinder Buddies is a program for kindergartners from Ceres Elementary School in Whittier that has partnered with California Lutheran University sports teams. They are currently supporting Kingsmen football, water polo and basketball, and Regals volleyball, water polo and softball. 
Each student from Ceres is assigned a student athlete mentor. The kindergarteners and their mentors exchange letters and goodie bags and speak to each other over the phone.
The Kinder Buddies take a field trip to Cal Lutheran once a year, where they meet up with their mentors and cheer them on during their games. After the game is over, the children get to eat lunch with the players, bond with them one-on-one and tour the school. 
During the school year, student athletes send their Kinder Buddies words of encouragement, reminding them to never give up in life. They have even shared their own personal struggles. Catherine Loomis said some of the letters the children receive from the scholars are so heartfelt, they are emotional to read.
Loomis is a kindergarten teacher at Ceres and has been partnering her classes with Cal Lutheran student athletes for the last five years. She said that since the Kinder Buddies have been visiting and interacting with Cal Lutheran students, Ceres Elementary's test scores have skyrocketed.
"It just always feels like family, no matter which time or team we meet. Some relationships last over time, but the memories of all our college experiences last a lifetime," Loomis said.
This partnership not only provides the children people to look up to—it's also gratifying for the Cal Lutheran students.
"It's very rewarding for us to know that we can make a difference, give them goals and give them something to work for, and emulate the people we've looked up to our whole lives," said senior Amanda Roberts, women's volleyball team captain.
Roberts isn't the only one that feels this way. Senior Jack Kirby, the men's water polo team captain, expressed similar sentiments.
"This helps us grow as adults a lot because we start thinking a little bit about our own future and we start thinking about our own image too," Kirby said. "We have to be very mature because we're representing our school and ourselves so we put on the best image as role models and as representatives. For us, it's really fulfilling."
Loomis also said that this partnership hasn't just influenced the children, but their families too. Some of the Kinder Buddies' parents have been inspired to return to or apply for college. Loomis had the opportunity to see one of the mothers graduate as she sat next to one of her previous kindergarten students.
Roberts said she can see the impact the program has on the Kinder Buddies and their families too.
"If the parents can clearly see how much we can affect them, even when we only see them only a few times a year, they can reflect how much of an impact they can have on their kid," Roberts said.
Third-grader Giovanni Lopez, who participated in the program as a kindergartener, said he's developed an interest in swimming after watching the water polo players.
Giovanni said he enjoyed his time at Cal Lutheran and his favorite part was, "to get to see the people play and I got to eat and talk with them after our tour."
Giovanni's mother, Sandra Lopez, said her son's mentor was a pre-med student. She said it was inspirational for him to meet a future doctor.
Though the often two-hour commute from Whittier to Thousand Oaks can be tough, Loomis said it's worth it for everything they get out of the Kinder Buddies program.
Their next field trip is Sept. 25 and they will attend the women's volleyball game at Whittier College.
"We get enough visitors that the kids are constantly reminded that Cal Lutheran loves them and cares about them," Loomis said.
Rose Riehl
Reporter