#TBT: Foamalicious Foam Party
California Lutheran University held its first ever foam party in Kingsmen Park on Wednesday, Sept. 12.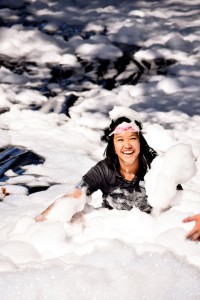 The foam party was complete with a Kona Ice Truck that served Hawaiian shaved ice and games like spike ball and cornhole. The main attraction, however, was a giant slide that extended the length of the hill in Kingsmen Park. The entire slide was covered in billows of purple foam.
The event was hosted by the Associated Students of California Lutheran University Government.
The "Foamalicious Foam Party" was inspired by social media, said ASCLU Senior Representative Tania Samaan.
"During our spring retreat, actually, our president Nick [Steinwender] came across this video that another school did. Brigham Young University had this foam slide during their homecoming weekend," Samaan said. "It looked really, really cool on YouTube. If they could do that, we could do that."
Samaan said ASCLUG puts on events like foam parties to give students a break from studying and a chance to make new friends.
Junior psychology and Spanish double major Tiarra Ray said she attended the event to meet new people.
"It's super important for Cal Lutheran to have these events. You go to some events on campus that Student Life puts on [and] you get to meet all new types of people," Ray said. "It's just nice to have these faces you recognize around campus and it develops that community and makes it fun."
The Foamalicious Foam Party was the first of its kind at Cal Lutheran and one of many events ASCLUG has lined up for the fall semester.
"The next thing coming up after this is our picnic day…We're going to have some food trucks, a photo booth and some other activities," said Samaan.
For more information about upcoming events on campus, visit the HUB events calendar on the Cal Lutheran website.
Bryan Duda
Reporter