Getting the Last Laugh on Cancer
Shayley Shimkus is not one in a million. She is one in 400, and it really hurts. But after beating cancer for the third time, she is determined to have the last laugh.
Shimkus, a junior at California Lutheran University has the rare DICER1 syndrome, which normally protects against the growth of tumors, but in Shimkus, it makes her body produce tumors easily.
Last November during production of Shakespeare's "Cymbeline", she went into surgery for a mass that she discovered. The day she got the call from her doctor, Shimkus said she knew the news was not good–they had found cancer.
"I said 'It's fine, it's fine,' because I had just dealt with it so much," Shimkus said.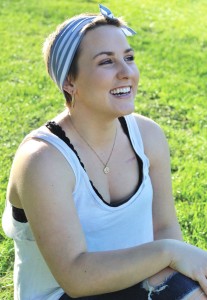 Returning home to Las Vegas Nevada at the end of the fall semester, Shimkus underwent eight long months of chemotherapy and surgery. She spent her spring semester on medical leave, and while it was hard for her to be away, she enjoyed her time with her family.
Fellow theatre enthusiast and friend Bridget DeMaria was able to spend time with Shimkus while she was receiving treatment in the hospital.
"After visiting her and being there for that chemotherapy treatment, I gained an immense amount of respect and even more love for her than before," DeMaria said in an email interview. "It really put things into perspective for me. Not only how strong she is but also how different our childhoods were."
As a child, people visit the doctor for checkups, but Shimkus' has been dealing with cancer since she was 6 when doctors found a tumor the size of a softball on the lining of her left lung. She was diagnosed with pleuropulmonary blastoma.
The cancer was discovered on a Friday and by Monday, she was in surgery to get the tumor removed. What followed was nine months of chemotherapy and homeschooling.
Then a routine scan when she was 8 found nodules, or small bumps on her thyroid. In her teen years, an issue was found yet again.
"When I was 13, I had hernia surgery, but when I went under anesthesia, they noticed that my stomach was still protruding and they found another tumor," Shimkus said.
Treatment after treatment, surgery after surgery, by age 20, Shimkus was an old pro at handling anything life had to throw at her.
DeMaria recounted the night her "adventure buddy" Shimkus told her about her latest diagnosis in her calm, casual demeanor.
"She basically was just like, 'Hey don't worry, everything's gonna be fine, but they found cancer in the growth they found– but it doesn't seem to be a big deal… I'm going to be okay. I'm gonna deal with it over winter break, and I'll be back'," DeMaria said.
Shimkus credits her support system for helping her return as a full-time student, resident assistant in the first-year Pederson hall and as a new member of the Cal Lutheran Improv Troupe.
Ruth Smitherman, a fellow troupe member and friend of Shimkus said that she was glad to have the addition of Shimkus' bubbly energy on the troupe.
"She's got a glow that's going to shine on stage," Smitherman said.
Shimkus looks forward to traveling to Oxford, England next fall with the Cal Lutheran Oxford study abroad program.
In the meantime, she will continue to, as DeMaria said, radiate her light.
Vianca Castaneda-Correa
Reporter