Overcoming injuries: Senior TJ Porter makes a comeback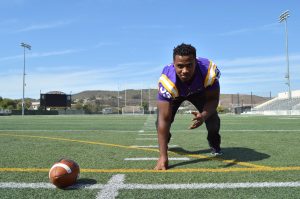 Senior defensive end Tecoy 'TJ' Porter has spent the past year working to make a comeback to the California Lutheran University Kingsmen football team after tearing his ACL and meniscus in a game against the University of La Verne in 2016.
During the first quarter of the game, Porter was injured on the field by a blocker who hit him from an awkward angle. Porter said when he decided to go back in for the second quarter, things took a turn for the worse.
"I went to go pass-rush and I put my foot on the ground again, and it kind of gave out on me. That's when I just went down," Porter said.
Head Coach Ben McEnroe witnessed the incident and said he was heartbroken when he realized how serious Porter's injuries were.
"He had been playing so well and worked so hard to get to where he was," McEnroe said. "Anytime it's a ligament injury in football, you're looking at an extended absence from the game and extensive rehab."
Porter got a medical redshirt (or medical hardship waiver) for the 2017 season. His injuries affected his entire team because he was absent from the defensive rotation.
"[It impacted the team] a great deal because he was playing really well," Assistant Coach Scott Beattie said. "He was a big part of the defense. That obviously weakened our defense without him in there."
McEnroe said since his injuries, Porter has worked very hard to make himself stronger than he was before.
"The road [to recovery] was going to a lot of physical therapy," Porter said. "There was some road bumps here and there while trying to come back, but in the end, I was just trying to stay focused on trying to be stronger than I was."
Porter was sidelined for almost two full seasons to fully recover from his injuries. While recovering, he said he went to games and practices to show support from the sidelines. He also did weight training and agility and conditioning drills.
"I think you probably learn a lot about yourself in that situation and working your way back from that sort of adversity," McEnroe said. "It's only going to help you to grow. I think that overall, TJ is a very positive, young man. He's definitely a glass half-full type of person."
Senior running back Chris Anderson has seen a great deal of progress from Porter.
Even though Anderson did not witness Porter's incident, he said he can see how hard he has worked to get to where he is today.
"He comes with a lot of energy," Anderson said. "Every day you will hear his voice, and then after you make a play, he'll probably do a little celebration. He brings energy to the practice field and games."
Porter has a very positive outlook for the future of his football journey and said he plans to play as hard as he can, knowing that an injury can happen at any moment.
"I thank God that he put me back and able to play and show what I can do to help out the team," Porter said.
McEnroe said he feels Porter's mindset to work through the bad days played a big role in his recovery process.
"I think he's got an appreciation for every day," McEnroe said. "You watch him practice and practice extremely hard, and I think that probably has something to do with just being thankful for being healthy again and the ability to continue playing."
As the Kingsmen enter conference play, Porter said he is determined to win games and make an impact for his team. Just four games into the 2018 season, Porter has 20 tackles, one sack and three tackles for loss.
"To see him come back put a smile on my face because he came back lit up with a different hunger in his eyes," Anderson said.
As for the rest of the team, McEnroe said he hopes the team will continue to invest their time into becoming a championship-level college football program.
"We're hoping to win one game at a time and win conference," Beattie said. "That's our goal."
Leanna Kontos
Reporter