Maps have long guided travelers across foreign lands with precision and accuracy. But if you ask Rachel Schmid, the curator of collections and exhibits at the William Rolland Gallery of Fine Art, she'll tell you that maps can be artistic, too.
"Older maps have a lot of beautiful, hand-colored illustrations to go along with them," Schmid said. "There's a certain amount of craftsmanship that goes with it."
Through Nov. 6, a collection of historical maps from the 16th century to the present are on display at the William Rolland Gallery of Fine Art in an exhibit called "Mapping Meaning: Adventures in Cartography."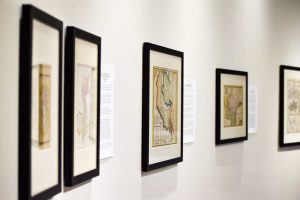 The exhibit is located on the north end of California Lutheran University's campus inside of William Rolland Stadium. It is split into three sections centered around Scandinavia, depictions of California as an island and maps of the heavens.
"What I like about this exhibit is that it turns the idea of maps on its head," Schmid said. "Normally when we think about maps, we think of them as very accurate. But you have to look at who is creating them, when they were created and what data was available."
Schmid was responsible for the layout of the exhibit, but the maps were collected and donated by Ernst F. Tonsing, an emeritus professor who taught religion, religious art and Greek at Cal Lutheran from 1974 until his retirement in 2003.
Tonsing's collection began from frequenting antique shops and bookstores in search of historic artifacts that sparked his interests.
"I'd go antiquing in Pasadena, Ventura and Santa Barbara, and very often in the walls of these antique shops were old maps. There were book shops with neat maps. So I started buying more and more, and I wasn't thinking that I was collecting, but sure enough it was occurring," Tonsing said.
Tonsing's interest in maps flourished as a child while his father was a chaplain in the army. He said he wanted to learn how to read maps because it would help him figure out where his father was at all times.
"Maps were a big part of our lives," said Tonsing, who graduated from Midland Lutheran College in Fremont, Nebraska with an the intent of becoming a geologist. "There's a lot of information to be found on them, much more than you would think initially."
Tonsing said inaccurate maps are a result of various mistakes, both intentional and unintentional. Some mapmakers were simply copying and redrawing the same inaccuracies made by their predecessors.
"Early mapmakers relied heavily on mythological sources, sea captains, sailors and other travelers," Tonsing said. "If you look at the first number of maps in the exhibit, they have California as an island. You'll see depictions of fearsome beasts inhabiting the water. Everything is wrong."
However, Schmid said that in the interest of political motives, cartographers intentionally produced inaccurate maps, drawing made-up land masses and omitting data to fit personal and geo-political agendas.
"Sometimes it's just not knowing," Schmid said. "But most often there's a political agenda at hand, trying to prove a point to demarcate lands, show separation between peoples and justify reign."
One of the maps in the exhibit depicts Frisland, a phantom island that appeared on maps during the 16th and 17th centuries.
"Frisland was used as a hoax to demonstrate that Christopher Columbus wasn't the first person to discover the Americas," Schmid said.
In an email interview, Bill Eaton, the former vice president for information technology of the California Map Society, added that historically inaccurate maps have even led to an escalation of war threats.
"In 1898 the Fashoda Incident led to war threats between Britain and France over a territorial dispute on the Nile River in Sudan," Eaton said. "This was partially due to inaccurate or non-existent maps."
Tonsing will return to campus during homecoming weekend for a lecture about his collection on Oct. 19 in Room 212 of the William Rolland Art Center. He will lead a tour of the exhibit the following day at 2 p.m.
"I think that it kind of opens up the imagination to ways you don't really consider in a map," Schmid said.
The William Rolland Gallery of Fine Art is open Tuesday through Friday from 10 a.m. to 4 p.m. and on Saturdays from 11 a.m. to 3 p.m.
Jake Gould
Reporter