Learning For Life with Free Courses
It's been a while since their college days, but for "lifelong learners," age is just a number.
---
They have completed their schooling and had successful careers, but these individuals are now learning for fun. California Lutheran University allows community members to audit college courses for free.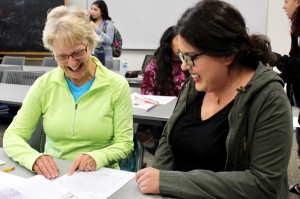 These students, referred to as "lifelong learners," take classes not for a grade, but for the experience.
Priscilla Lee, a retired nurse practitioner and Newbury Park local, is currently auditing classes at Cal Lutheran to help her in the next phase of her career.
"I was looking to take some courses, and when I saw on the website that seniors could audit for free, I felt like I had won the lottery," Lee said.
Lee retired in November 2017 after 15 years at the UCLA Medical Center. Her current interest is in ambulatory care and primary care.
She completed a summer intensive language program at Middlebury College, followed by upper-division Spanish classes at Cal Lutheran in hopes of improving her Spanish-speaking skills.
For Lee, being surrounded by the energy of students at Cal Lutheran is just as rewarding.
"Walking onto a college campus in the fall, it takes 20 years off anybody's life!" Lee said.
With the baby-boomer generation  slated to be the largest, most-educated group of retiree's in U.S. history, this group of learners, like Bernard Friedrich get to expand their knowledge at universities.
Friedrich, a retired consultant for U.S. international direct investments in Europe, also enjoys the opportunities and energy a college campus provides. Friedrich has audited eight classes at Cal Lutheran.
In an email interview, Friedrich said he was inspired to take classes again by his "deep curiosity in the many fields that I was not able to study during my professional life." He is also intrigued by "the exciting possibility of learning in new fields of interest with great teachers."
Bernard has master's degrees in both political science and corporate management from the University of Provence Aix-Marseille. He also earned his M.B.A at UC Berkeley in 1970.
"Knowledge and technology has changed the world since I last set foot on a campus…in 1970!" Friedrich said.
Lifelong learner Vrej Grigorian, who has been auditing classes at Cal Lutheran for 18 years, was looking for a beneficial way to spend his time after retirement.
Grigorian was born in 1938 in Tehran, Iran, where he completed primary and secondary school before traveling to the U.S. in 1957 as a pre-medical student.
Grigorian practiced as a general and vascular surgeon with a multi-specialty group in Thousand Oaks for 28 years.
As a surgeon, Grigorian was accustomed to long and unpredictable hours. He found comfort in being able to attend classes again.
"When I decided to retire, I kind of got panicked. I said, 'What do I do now?' and that's when I decided to learn something new," Grigorian said.
Grigorian has taken philosophy and multimedia courses, and is currently taking German to add to his fluency in Armenian and Farsi.
The lifelong learners bring their years of professional and personal experience to the traditional undergraduate setting.
"Being able to learn just for the sake of learning is such a gift," Lee said.
To apply to audit classes at Cal Lutheran click here.