Sabith Khan has done it all. From working in Washington. D.C. to writing feature articles in India. Now as a professor in the California Lutheran University graduate School of Management, Khan's journey to to acadamia began in childhood.
Born and raised by two public high school teachers in a middle-class household in Bangalore, India, Khan was exposed to education and philanthropy at an early age.
His parents tutored  struggling students for free in the family home. This sort of philanthropical outlook was the norm for Khan's family.
"My parents would spend enormous amounts of their free time doing this voluntarily," said Khan, who at 37 years old, also finds himself in a teaching role as a professor.
Gregory Amantia, who works alongside Khan as a graduate program specialist, described Khan as a "brilliant, compassionate and dedicated" professor.
"He is a kind, collegial and caring individual who always makes himself available to students," Amantia said. "You can tell he truly cares and is passionate about teaching and mentoring."
Khan's first job was as an entrepreneur starting his own publication writing feature articles, many of which were published in  newspapers and magazines in Bangalore.
Khan is a scholar-practitioner with expertise in American philanthropy, civil society and international development.
His research focuses on the role of nonprofits in refugee resettlement, corporate social responsibility in India, and the impact of artificial intelligence on society.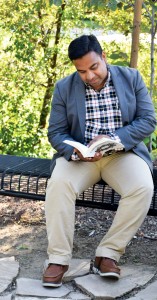 "One of the papers I wrote was how religious and other ideals have been used to understand and practice corporate social responsibility," Khan said. "Technology has become all-pervasive and changed how we form communities and support each other. So that's really the crux of where I'm coming from in terms of my research."
Khan published the book "Islamic Education in the United States and the Evolution of Muslim Nonprofit Institutions" in 2017, focusing on the impact of Muslim nonprofits in the U.S.  He is currently working on a book about international remittances, payments that people living in foreign countries send to their home countries, in Saudi Arabia, India, Mexico and the U.S.
"As a scholar, he is methodical about the different question he tries to answer, yet innovative in his approach," said Fabiola Lara, Khan's wife of three years. "He reads anything and everything, so he pulls from a variety of sources. And his students seem to appreciate that about him as well."
Lara met Khan in 2011 as a student at Syracuse University, where Khan earned his master's in international relations with a regional focus on the Middle East.
"I was still in school and he just had graduated but came back for a retreat that we were both a part of," Lara said. "We shared some great initial conversations and immediately connected on various issues."
After graduating from Syracuse, Khan worked in Washington, D.C. before earning his Ph.D. in planning, governance and globalization from Virginia Tech in 2012.
"He is incredibly disciplined, unlike anyone I've ever known," Lara said. "It only took him three years to earn his Ph.D."
Having spent time working across the nonprofit, for-profit and government sectors in India, the U.S. and the United Arab Emirates, Khan credits living in different places as an important step to take when trying to advance in a career.
"It's like saying you want to swim but don't want to get wet," Khan said. "If you jump in the pool, you're going to get wet."
Jake Gould
Reporter