Day Of Caring: Planting The Seeds Of Change On Campus
For 17 years, California Lutheran University has partnered with United Way Ventura County to beautify botanical gardens, restore library books and spruce up community parks. But for the first time since 2001, the university was a project site for the Day of Caring as nearly 25 volunteers planted 44 trees and cleaned up the Thousand Oaks campus.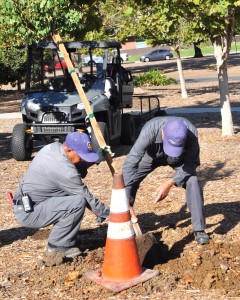 "Just this one day is $50,000 of labor and [was put on] solely by volunteers. Being able to give back to the community is really important…You can see the effects of it all after just one day," said Bailey Borup, Community Service Center student intern.
Eric Harrison, president and CEO of United Way Ventura County, said more than 30 different projects around the county took place Sept. 29, and gathered more than 600 volunteers. Service projects ranged from trail maintenance at the Ojai Valley Land Conservancy to cleanup crews at the Samaritan Center in Simi Valley.
United Way is a nonprofit organization that works with 1,200 charitable organizations throughout the country to raise funds and support local communities, according to the organization website.
"For me, [it's] a day that we get to stop our busy lives and think about how we can give back and do something that benefits other people or benefits the Earth," senior Amanda Souza said.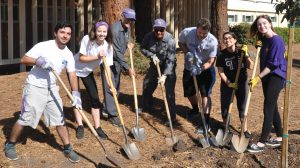 Madeline Liberti, coordinator for Community Service for Student Life is on the Day of Caring committee.
"I try to find ways for students and staff to participate in these kinds of projects. Dozens of them go on throughout the county and anyone can sign up for them," Liberti said.
Harrison has directed Day of Caring for eight years and said multiple former Cal Lutheran presidents sit on the board of directors for United Way Ventura County.
"It's a great way for people to take their Saturday morning and assist in the community where they can," Harrison said.
Joe Zimmerly
Reporter