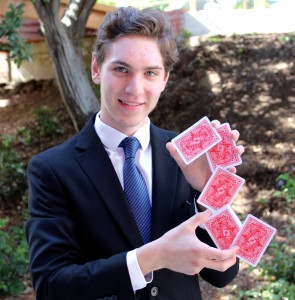 Austin Janik knows magic. Or specifically, the business of magic. He can guess what random word on a random Wikipedia page was selected.
The volunteer will search for a person, place or thing, pick a random word on that page and Janik will reveal the topic and word they selected. That's because the California Lutheran University senior is true magician.
"I absolutely think Austin will make it in the industry. He not only has an amazing business mind, but his technical skill is incredible. He handles the crowd with precision and quick thinking and has the features of a true professional," said Janik's friend and fellow magician Aaron O'Brien. "I think with his ambition, he could absolutely be one of the best magicians in the world."
The computer science major performed magic on the nationally televised show "Penn and Teller: Fool Us," when he was 16. He received high praise from the legendary comedic magicians, who are the longest­—running headlining act in Las Vegas history. Although he was not able to fool the duo, they were amazed at his ability at such a young age.
To hone the act that garnered him a spot on TV, Janik and O'Brien often work together, using each other's knowledge to gain perspective on how to improve their skills.
"He is always helping me come up with new creative and innovative ideas that I am able to incorporate into my show," O'Brien said.
Janik said that it is important to have an outside eye watch his magic before he performs, and O'Brien offers that perspective.
"Getting other people's feedback on magic, speeches, anything makes it one hundred times better," Janik said.
Janik's passion for magic was sparked by his father, who showed him magic tricks when he was five, and said it continued from there.
Jankik is able transfer his skills as a magician to other facets of his life, like his experience with mock trial, an academic competition where teams act out court trials.
Janik's brother Joshua Janik noted that his brother's time in mock trial in high school helped with his skills as a presenter, which is key for success as a magician.
"The magic work ethic is about not only connection, speaking, being entertaining, but also thinking how to be multiple steps ahead," Janik said.   
Janik may be able to fool people with his magic, but he does not rely on any tricks to succeed in business. Janik is an entrepreneur and won Cal Lutheran's 2017 New Venture Competition with his idea Weave, a social networking site for millennials.
NVC is a competition where five student entrepreneurs compete to create business-startups for cash prizes.
"Austin is passionate about school and being successful in life. He has always wanted to run a startup business and make it extremely successful. He is an amazing businessman as well," O'Brien said.
Joshua Janik said that he frequently works with his brother in business and in magic.
"We have always been able to collaborate on every project whether that is magic or entrepreneurial competitions or other business endeavors," Joshua Janik said.
Janik said that he will always be practicing magic, regardless of what career path he follows.   
"Magic is always going to be a part of what I do because I just really love it, but also I'll probably do something entrepreneurial as well," Janik said.
Janik will be performing on Oct. 27—28 at the Magic Castle, an exclusive club for magicians. . Must be 21 years old or older for admission.
For more information, visit his website.
Christian Ahn
Reporter