Hidden Treasure: Establos Meat Market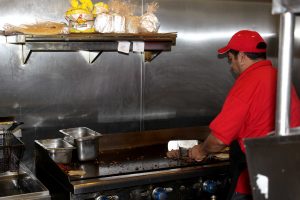 Situated outside of Los Angeles, a mecca for Mexican food and culture, it would be easy to pass Establos Meat Market— and not just because it is right off of the 101 Freeway. Tucked away in a nondescript strip mall in Thousand Oaks is the butcher, market, grocery store combination.
Establos Meat Market opened its Thousand Oaks location seven years ago at 140 W. Hillcrest Drive, up the street from The Oaks Mall. They serve dishes like tacos, burritos, nachos, tortas and mariscos all filled with house-made ingredients.
Stepping inside, you are welcomed with the smell of meats like chicken, lengua and cabeza, cooking to a sound track of Mexican melodies along side aisles of foods and drinks.
Establos is described by some of its 135 Yelp reviewers as an authentic, delicious and unique Mexican meat market that you are going to want to try.
Yaneli Morales has been working at the front cash register of Establos for six years and said that the good food is what has attracted so many customers to this location, including many California Lutheran University students.
Cal Lutheran junior Austin Wong said he has never been to a place quite like Establos Meat Market.
"My favorite part about going to Establos is the environment. It is located in a little market so you can shop for some authentic Hispanic items while waiting for your food. They have really good tortillas and pre-marinated meats in the back too," Wong said.
Wong said he has been to Establos Meat Market over 10 times and has tried many different things on the menu.
"My favorite thing to order is the standard classic chicken burrito that comes with rice, beans, cheese, meat and salsa. It also comes with a side of chips and salsa, " Wong said.
Junior Jakar Oriseh said he is a "big fan" of Establos and tries to eat there at least once a week after his roommate introduced him to the market.
"My favorite part is that the food is good and it's cheap. I usually order a carnitas burrito and sometimes I get guacamole and chips too, if I'm feeling rich," Oriseh said.
The market is open from 7 a.m. to 9 p.m. every day. Morales said the most popular items are the tacos and burritos; tacos start at $1.50 each and burritos start at $5.99.
"It is a great place to prep for a party. I [bought] chips, tortillas, marinated meats, salsa, guacamole and fresh limes all for a party at a friend's house," Wong said.
Located four miles from the Cal Lutheran campus, Establos is sure to fulfill any Mexican food cravings.
Luisa Virgen
Reporter