Kingsmen refuse to lose, hold Pomona 28-24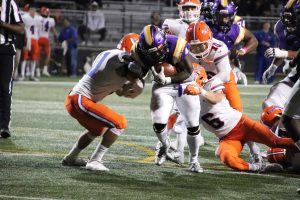 With under 10 seconds to play in the fourth quarter and playoff aspirations at stake, California Lutheran University football Head Coach Ben McEnroe was left with no other choice than to rely on his defense to execute the biggest play of the season.
On a fourth down inside of their own 7-yard line, the Kingsmen defense did just that, delivering in exhilarating fashion with a goal-line stand. This capped off a 28-24 victory over the visiting Pomona-Pitzer Sagehens in a game that featured six lead changes.
"We talked at halftime about making a stand. Stand up for yourself, stand up for your team," McEnroe said. "It simply came down to refusing to lose. That goal-line stand was epic."
Cal Lutheran's heroic defensive efforts were led by junior linebacker Ethan Pulley. The reigning Southern California Intercollegiate Athletic Conference (SCIAC) Athlete of the Week had 17 tackles.
Senior linebacker Tyler Lozano also stood out on the defensive side of the ball, notching 6.5 tackles, two tackles for loss, a sack and an interception.
"It came down to the very last drive, just like last year," Lozano said. "We just kept consistently fighting."
Led by junior quarterback/wide receiver Karter Odermann, Pomona Pitzer's high-powered offense started the game clicking on all cylinders. The Sagehens did not punt the ball in the first half, cashing in 24 points on four of its five first-half drives.
Halftime adjustments to the Sagehens' read-option rushing attack helped the Kingsmen defense pitch a shutout in the second half, giving the offense space to erase a 10-point deficit with 14 unanswered points.
"From an X's and O's standpoint, our defensive coaches and players were on the board at halftime and made some nice adjustments to what Pomona was doing with Odermann at quarterback," McEnroe said. "It was really cool to see the staff and the players working together like that."
Pomona-Pitzer's offense operated with a two-quarterback system featuring senior Edward Sias as the pocket passer and Odermann as the dual-threat signal caller, leading all Sagehens rushers with 93 yards on 19 attempts.
"We decided to move our defensive ends to three techniques and stuff up the middle," junior defensive lineman and team captain JW Windsor said. "That quarterback was trying to find where our holes were open at, so those B-gaps needed to be closed so we could keep the offensive line on their heels and bust up the middle."
Both Pomona-Pitzer quarterbacks made it a point to target Cal Lutheran first-year defensive back JD Lang in one-on-one matchups down the field. Lang embraced the challenge, recording four pass breakups, twice as many breakups as he had entering the game.
"During the game, I was talking to JD saying 'Hey, don't let them pick on you,' and he had his confidence up," Windsor said. "I'm really proud of him for making his plays when we needed them."
Both teams eclipsed 400 yards of total offense, combining for 830 yards altogether in a clash of opposite offensive styles. Cal Lutheran ran wild with 250 yards on the ground compared to Pomona-Pitzer's 103 yards, while it was the Sagehens' aerial-assault passing attack doing significantly more damage through the air. The Sagehens had 361 yards on 61 attempts as opposed to Cal Lutheran's 161 yards on 20 attempts.
"Our problem so far this season has been that we've been kind of one-dimensional just running the ball all game," said senior quarterback Eli Peters, who led all Kingsmen rushers with 93 yards on 16 attempts. "We really had to open it up with our passing game. Today we were a little up and down, but we were able to get our guys going, get our athletes open and space and let them make plays."
Peters cleaned up his play after throwing a pair of interceptions on two consecutive drives in the first half.
As a unit, Cal Lutheran's offense did not turn the ball over again until the fourth quarter. Pomona-Pitzer junior defensive back Elan Harris forced a fumble that gave the Sagehens the ball back inside the Cal Lutheran 25-yard line with just a 24-21 lead with 6:03 remaining in regulation.
But in a far from ideal spot on the field, Cal Lutheran's defense proved it could be leaned on again, forcing a Pomona-Pitzer turnover on downs on a four-play, negative 8-yard drive.
"We know our defense is special and was going to get that ball back for us," Offensive Coordinator/Quarterbacks Anthony Lugo said.
Senior running back Chris Anderson, Cal Lutheran's leading rusher on the season, saw limited playing time as he dealt with a calf injury. But that did not stop the Eastern Illinois University transfer from making an impact on the game, as shown with his elusiveness and ability to make multiple defenders miss with his brilliant 16-yard go-ahead touchdown on a middle screen.
"To see a senior banged up is tough," Lugo said. "We are lucky to have playmakers throughout that whole position group. That whole group with Kayden [Clements], Jabar [Byrd] and Chris has a special dynamic. They push each other throughout the week."
With the win, the Kingsmen remain in contention for a SCIAC championship as they look to prepare for their homecoming game against Chapman University on Saturday, Oct. 20.
"I'm proud of our players and coaches," McEnroe said. "That was a quality win against a good football team."
Jake Gould
Reporter