Walk 1,000 Miles In His Shoes
October 16, 2018|12 Views
Shortly after graduating California Lutheran University with a degree in mathematics and a college career spent running cross-country and track and field, Timmy Kahovec set out for another endurance test. Kahovec hiked a large portion of the Pacific Crest Trail, which spans 2,650 miles from the U.S. Mexico border to the southern border of Canada.
"My friend was actually doing it already and I just joined him. He had messaged me about some Oregon challenge he wanted people to join him for. It's hiking through Oregon in 14 days and I thought it sounded awesome and wanted to join him,"  Kahovec said.
PCT hikers spend an average of five months, walking at least 30 miles a day to complete the full trek. Kahovec and his friend Zach Wims completed 1,000 miles between California, Oregon and Washington in just 34 days.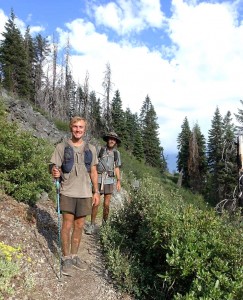 Many hikers begin their journey in the spring and finish in the fall to avoid the winter conditions of the Pacific Northwest. But the trail is open year-round and hikers can pick what months they want to attempt the Pacific Crest Trail.
Wims was already on the Pacific Crest Trail when he convinced Kahovec to join him after describing the views and the journey they could share. Kahovec and Wims grew up and shared many memories together over the years.
"Timmy and I go way back. We officially met when we were in elementary school at our church, but we have been hanging out since we were in diapers," Wims said.
While hiking the trail, Kahovec made friends with fellow PCT hiker Yiran Li.
"I thought I was unprepared going into the Pacific Crest Trail with only two years of hiking experience and with only five previous backpacking trips, but then I got to meet Timmy and found out that this was his first-ever backpacking trip," Li said.
Most distance hikers build up what Li calls their "trail legs" the first few weeks to become comfortable hiking the terrain with a heavy pack. Li said that Kahovec however, "hit the ground running" right away.
"To truly qualify his experience, you have to consider that he joined a fast hiker midway through their hike," Li said. "When he joined up with Wims and I, he immediately started hiking 30 miles a day."
After hiking 1,000 miles through three states, Kahovec said he is ready to get on the trail again.
"This was the first time I slept on the trail and continued hiking, but now it's all I think about. I just want to do it again. It was pretty awesome," Kahovec said.n 34 days. Photo courtesy of Timmy Kahovec.
Bryan Duda
Reporter