A Voice for Music and Activism
Tamar Haddad's favorite band sings about issues that can land their audience in jail. It's not surprising that she is drawn to activist music. Haddad has spent her life preparing to make a change.
Haddad grew up in Jerusalem, Palestine where she received her first Bachelor of Arts in English. Now she is completing her second degree in music at California Lutheran University.
"I want to be a professional singer and it's mainly for me, because I'll probably work in another field," Haddad said.
Her favorite group is a Lebanese indie-rock band called Mashrou' Leila. Haddad said she likes the band because they sing about topics that are considered taboo in the Arab world such as sexual freedom  and gender equality.
Aside from music,  Haddad has a passion for making a change in her community. She lived in Washington, D.C. last year for a leadership program at Georgetown University.
"The program was really good.My mentality completely changed [and] I grew up way more. I started feeling like I needed to make a change in my own community," Haddad said.
She said that after the program, she realized she wants to work on development and education in Palestine.
Haddad said she wants other Palestinian students to have the same experience that she had, so they can make a change as well.
Rama Youssef, a first-year student from Syria, met Haddad at the international student orientation. Youssef said she admires Haddad's drive to motivate change.
"When we are together, we talk a lot about our society and how we're both very different from where we came from and how we want to make a difference in our countries," Youssef said.
Noting the difference between her home country and the U.S., Haddad said she enjoys the freedom she has in the U.S..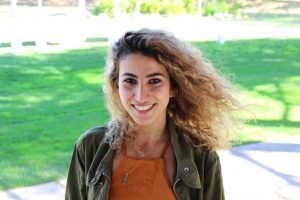 "People are more free and open-minded [here] than people in my country, which is sad," Haddad said. "It's hard for people there to accept minorities and accept diversity and they don't know it's wrong and it really bothers me,  so I needed to escape from that for a little bit."
Youssef said she cannot wait to see what Haddad does during her time at Cal Lutheran and when she returns home.
"I just feel like this woman is going to go to a lot of places, just from talking to her. I think once she goes back to Palestine, she is going to make a huge change in her society within her people," Youssef said.
Before coming to Cal Lutheran, Haddad spent a semester as an exchange student in South Korea and she said it was probably her favorite place that she has ever been.
"I like to travel around and see the world. I like seeing other cultures and experiencing new things—maybe that's one of the reasons why I'm here," Haddad said.
First-year student Sej Thapa said she has become friends with Haddad and shares her love for traveling.
"She loves to travel, so we have been trying to go to San Diego or San Francisco together and we probably will within this semester," Thapa said.
Haddad said she is excited to improve on her singing this year. She said she wants to work on her confidence, an area she struggles in.
Youssef has heard Haddad sing and said she has a beautiful voice.
"I begged her to sing because she doesn't like to sing with people and her voice is amazing, and [she] sang both in Arabic and English," Youseff said.
Thapa said what she admires most about Haddad is her ambition toward school and her studies.
"Considering her past and where she is from, she is so 'woke' and knowledgeable and her studies are her first priority," Thapa said.
Luisa Virgen
Reporter