Representing Diversity With HSI
California Lutheran University is now $6.47 million richer thanks to the U.S. Department of Education. This money will further the university's mission of being a Hispanic-Serving Institution.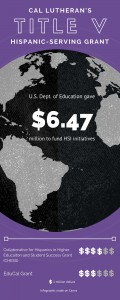 This month, Cal Lutheran was awarded $6.47 million in Title V grant funding. Title V of the Higher Education Act is known as the Developing Hispanic-Serving Institutions Program and provides support to universities and colleges that have been designated as HSIs.
The funding is split between two separate grants, each distributing funding to the university over the course of five years, said Provost and Vice President for Academic Affairs Leanne Neilson. Nearly $3.75 million of the funding comes from the Cooperative for Hispanics in Higher Education and Student Success grant, known as the CH2ESS grant. The second grant, called EduCal, allocates $2.72 million directly to Cal Lutheran for projects on campus designed to further the mission of being a Hispanic-Serving Institution.
"The goal is to be sensitive to the needs of all students and have coursework representative of all voices on campus," Neilson said.
According to the U.S. Department of Education, in order for an institution to be designated an HSI, for at least two consecutive years, a minimum of 25 percent of the full-time student body must be Hispanic.
Matt Ward, vice president of enrollment management and marketing, said the university first achieved the 25 percent enrollment benchmark in 2013. In February of 2016, the university received its designation as a Hispanic-Serving Institution. Now, he said, Cal Lutheran has a 30 percent Hispanic population, with 50 percent of incoming first-year students identifying as an ethnicity other than white.
"As a new HSI, there's a transformational element to this," Ward said. "The goal is to think about equity and to consider who we're serving."
Ward said the grants are designed to increase retention and graduation rates among underrepresented students. While the programs are specifically designed to serve Hispanic students, Ward said the improvements will benefit all students and faculty on campus, as well as the surrounding communities.
Title V grants aim to address a disparity between Hispanic students and Hispanic teachers in the country. Nationally, the Hispanic student population is nearly 25 percent according to the 2017 census, where only 8 percent of teachers identify as Hispanic. The study shows that in the Los Angeles area, there is a 36 percent gap between enrolled Hispanic students and Hispanic teachers.
The EduCal grant provides $75,000 to upgrade the existing math lab on campus and funding to hire a bilingual writing specialist for the Writing Center in the library. The allocation will also fund a new faculty-administrator hybrid position, the duties of which include managing elements of new programs and teaching as a professor.
Ward said the university intends to use some funding to provide free  introductory English and math classes for Cal Lutheran students over the summer. These changes are designed to make students aware of a path to teaching certification and aim to increase retention of enrolled students on the path toward their credentials.
The CH2ESS grant is a co-operative funding opportunity to be shared between Moorpark College and Cal Lutheran. Nearly 65 percent of the $3.75 million will be allocated to Cal Lutheran and the rest will fund changes at Moorpark college because of a transfer deal between the schools.
Ward said the funding will be used to provide training to existing faculty and staff and overhaul 50 courses at each institution so the content presented is representative of multiple viewpoints.
In addition to the course changes, $625,000 will be used to renovate an existing building on campus and convert it to a transfer center within the next five years. Peer mentor jobs will also be developed on campus for underrepresented students to connect with potential transfer students from Moorpark.
"It signals the university is in a certain place," College of Arts and Sciences Dean Jessica Lavariega-Monforti said.
She said it "shows the institution is moving toward the serving part of being an HSI," not just existing as a university that has a high Hispanic enrollment.
Ward co-wrote the grant proposals with Kelly Owens, director of sponsored research and programs at Cal Lutheran. Lavariega-Monforti oversaw the project as the principal investigator.
Owens explained her position as "shepherding the grant proposal through the approval process." In addition to co-writing the proposals with Ward, Owens helped develop the budgets and research for the grants and ensured the applications were written correctly. This was especially important because Cal Lutheran applied for the CH2ESS grant last year and, despite high scores, did not receive funding. This year, the proposals requested the maximum possible funding and were approved.
"These grants allow us to do things we otherwise wouldn't be able to do in regards to serving all students equitably," Owens said.
Katherine Lippert
Reporter
Editor's Note: This article was updated to reflect that the CH2ESS grant is a Cooperative for Hispanics in Higher Education and Student Success, according to the U.S. Department of Education website.