New Science Department Has Been 12 Years In The Making
October 16, 2018|14 Views
Brand new science building? Check. Brand new science department? Check. If you haven't noticed, the sciences at California Lutheran University are getting a total overhaul.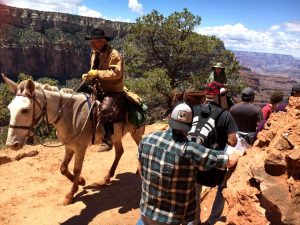 From a new building to combined majors, it doesn't take a geologist to notice the changes in the environmental sciences. The geology and environmental science majors are merging into one program: Department of Earth and Environmental Science.
"Dr. Rita Bush and I, and a couple biology professors, what about a dozen years ago, proposed the environmental science major," geology professor William Bilodeau said. "There were no professors who were newly hired for the program–there are still no professors that are environmental science department professors. There's just a whole bunch of people across many departments that teach one or two classes."
Bringing the two majors together under one departmental umbrella has been in the works for years, Bilodeau said. Bilodeau originally pitched the idea because he was inspired by universities like Stanford University who have combined geology and environmental science majors.
The change to a new Department of Earth and Environmental Science will be effective by fall 2019, Dean of the College of Arts and Sciences Jessica Lavariega-Monforti said.
"There's a lot of crossover, not 100 percent, but there is certainly crossover as we talk about 'What are resources, climatology and minerals'…All of that has at least some [geographic info system] mapping and we can go on and on. I think it makes sense to share resources, to share expertise across these two programs," Lavariega-Monforti said.
Bilodeau said the course requirements for the geology and environmental science majors will not change in the short term. While the requirements will still be the same for now, students can expect for them to potentially change over time.
"I think over the long term what we might see is some sharing, and some more interdisciplinary courses being taught," Lavariega-Monforti said.
The department is actively looking for two new full-time faculty members, Lavariega-Monforti said. One will be the chair of the department and the other will be brought on as a junior faculty member.
"Anytime you hire new faculty, there often are curricular changes that accompany that. We think that there could be some really interesting synergies across these two [factors]," Lavariega-Monforti said.
Bilodeau said he would "ideally like to have a third person hired" to replace him because he is soon retiring.
Hiring a department chair replacement and two faculty members by fall 2019 would allow time for proper training and guidance for the department.
As far as physical space goes, Bilodeau said there will be no change, if anything, more space will become available in Ahmanson when the new science building is completed in 2020.
"We have some really interesting dynamics going on right now and I think that if we can capitalize on them, we could continue the momentum that we already have going on in the sciences," Lavariega-Monforti said.
Alejandra Gonzales
Reporter