"The Block Party!" Brings Friends, Cultures Together For Night Of Fun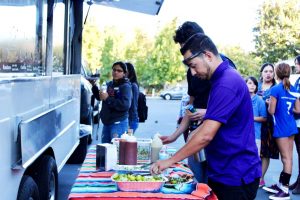 Food trucks lined up along the perimeter of Grace and Trinity residence halls as music from live performers rattled black speakers and lured crowds of students in to see what was going on.
"The Block Party!" is part of the Center for Cultural Engagement and Inclusion events series on campus and this year, the party took place in front of Grace Hall on Oct. 15 from 5-7:30 p.m. Along with food trucks like "Rice Balls of Fire" and live student performances, the event also featured lawn games.
Jonathan Gonzales, senior coordinator for Cultural Engagement and Inclusion, said the event gives students the opportunity to "celebrate before the real party begins" during homecoming weekend.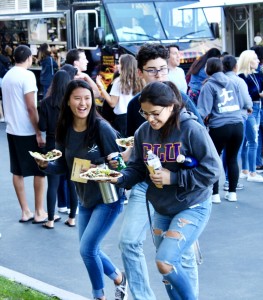 "It really is just to kick off homecoming week in a fun way and to really highlight the diversity that is on our campus," Gonzales said.
People attended the event for many reasons, but for some, it was an opportunity to perform in front of their peers. Student performances included an Indian dance team and an acoustic guitar performance.
"This was a great chance to hang out with friends and do something that we don't usually do. I really enjoyed the live performances and I thought it was cool to see students perform," senior Klayton Wood said.
Some attended the event for a chance to eat food that does not come from the cafeteria.
"I came here because of the food trucks. I am usually stuck eating at the cafeteria, and I did not want to pass up the chance to eat at one of the food trucks," said senior Ulises Castro.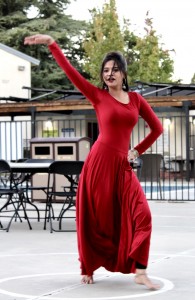 The homecoming celebration continues this week and into the weekend with the "Little Calf Creamery Drop-in" event on Oct. 16 from 6:30-7:30 p.m. on E. Janss Road and "Monte Carlo" on Oct. 19 from 7-10:30 p.m. at the Camarillo Ranch House.
Christian Ahn
Reporter