Kingsmen Soccer Recognizes Seniors in Final Home Game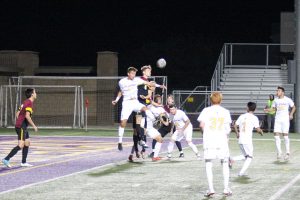 Between workouts, practices and games, the senior captains of the Kingsmen soccer team have stepped onto the field at William Rolland Stadium hundreds of times.
Defender Alex Cortez and forward Jared Pischke have been teammates for the past four years and are the only players on the roster who have been on the California Lutheran University men's soccer team since their first years as Kingsmen.
On Wednesday, Oct. 17, Cortez and Pischke suited up in their all-white uniforms and stepped out on their home field one last time.
"Both of us have been here four years together…We are just trying to leave a good mark on the program. We've put a lot of time and work into the last four years," Cortez said.
This game was a must-win situation if the Kingsmen wanted to keep their postseason hopes alive. But the Claremont-Mudd-Scripps Stags shut them out with a score of 2-0.
In the first half, the Stags scored and kept the Kingsmen to one shot on goal.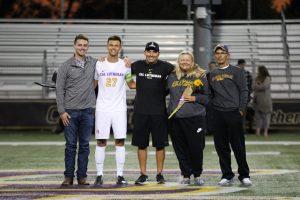 At halftime, Head Coach Miguel Ruiz said the Kingsmen made some adjustments to their formation that helped them dominate offensively in the second half. But the Stags scored again off a set piece near the penalty box.
"Besides that, I thought we had the better run of play in the second half, but we just couldn't find the back of the net. It's tough when you don't score goals in soccer," Ruiz said.
After the game, Pischke shared his optimism about the Kingsmen's two remaining games of regular season and their playoff hopes. Pischke said that before tonight's match, they were tied for fourth in the conference with four other teams.
Luckily for the Kingsmen, the top four teams in the conference will move on to playoff contention. Ruiz said they are going to need some help in order to take the fourth spot, but they will not have a chance unless they win both of their last two games.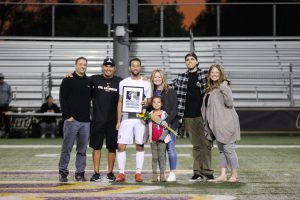 Both Pischke and Cortez said they felt very confident in their team's ability to keep fighting for playoff contention. They credited the younger players, who make up a majority of the roster, and said that their work is appreciated and will only make them better.
"Our main goal is to just focus on winning out, getting results, points and hopefully making playoffs," Pischke said.
The Kingsmen will head out to face Pomona-Pitzer on Saturday, Oct. 20 at 11 a.m., where they will try to gain a spot in playoff contention.
Dominick Grimm 
Reporter